'Kick-Ass': As over-the-top as you can get
With the comic book and superhero film craze in full swing, it would be easy just to release another run-of-the-mill superhero movie. "Kick-Ass," however, is a cut above the rest.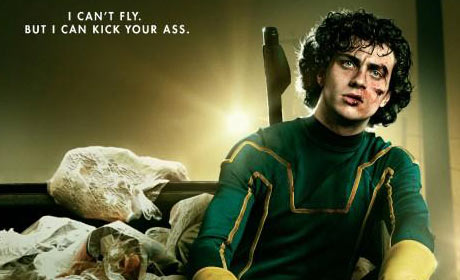 With the comic book and superhero film craze in full swing, it would be easy to get away with just releasing another run-of-the-mill, superhero-beats-super villain-movie. "Kick-Ass," however, is a cut above the rest.
The film takes the superhero genre and looks at it from our perspective as mere, powerless humans. Dave Lizewski (Aaron Johnson) is an average high school geek who spends much of his time reading comics, checking his MySpace, pining after women and desperately wanting to become a superhero. After getting mugged in an alleyway, Dave decides to take matters into his own hands, leading him to buy a scuba suit, don a mask and fight for justice as Kick-Ass.
He soon confronts the muggers, adorned with his green suit and batons, but gets more than he bargained for after a stab wound and a traffic accident land him straight in the hospital. After a few months of recovery, Kick-Ass hits the streets again. His second bout with crime ends in his favor, as he successfully defends a man from three muggers. Amateur videos of Kick-Ass in action start turning up all over the Internet, turning him into a celebrity. As Kick-Ass continues to do as his name suggests, he is confronted by two real superheroes, known as Big Daddy (Nicholas Cage) and Hit-Girl (Chloe Moretz), who show him what being a superhero really means.
Johnson is a perfect pick for the protagonist. Audiences cannot help but root for him as he gradually tries to feel his way through his first missions and uphold justice. Cage also gives a hilarious performance in his performance as Big Daddy as a strange hybrid of a classic, reserved father figure and bitter ex-cop turned vigilante. Christopher Mintz-Plasse ("Superbad") also does an excellent job portraying the main villain mobster's spoiled son, Chris D'Amico, a.k.a. "Red Mist."
"Kick-Ass" is perhaps one of the only films in its genre that almost anyone can relate to. Admit it, you have always wanted to go out and fight crime in spandex. The movie also pays much tribute to the other superhero films and comics before it, often referencing lines and heroes from Spider-Man, Batman and many others.
The fight scenes are brilliantly chaotic and brutally over the top, which is what we have come to expect from Mark Millar, who wrote both the "Kick-Ass" and "Wanted" comics. The film is thoroughly entertaining, whether the vigilantes are tearing the baddies to shreds or as Dave awkwardly stumbles through his fights — or even just his everyday life as a high school student .
The heroes in "Kick-Ass" are not like most other superheroes. They have no real powers but they use firearms and swords to dispose of evildoers. They also are not too big on taking bad guys to jail; rather they brutally kill anyone on the wrong side of the law, which may be a turn-off to fans of more traditional superhero tactics and morals.
A fair warning for anyone planning to see "Kick-Ass": If you have any qualms with extremely vulgar language or copious amounts of blood, then this film is not for you. There is no shortage of ways that people are killed. Hardly any brutalities are off-screen, with most of them seen in all their bloody glory. The film also contains 100 uses of the F-bomb, some of them coming from Hit-Girl's mouth.
Much of her dialogue would make a sailor blush, which may offend some more than usual, considering that Hit-Girl is only twelve years old and can easily be a dealbreaker for many who disapprove of having a young actress do such things for a film. This is one of the few films to treat a girl her age just like any of the other superheroes, as her dialogue is just as crass as the rest of them along with how she mutilates the baddies with the greatest of ease. "Kick-Ass's" portrayal of Hit-Girl as a merciless killing machine is probably more shocking than any of the copious gore or foul language and is easily the most controversial aspect of the entire film. The film definitely earns its R-rating. If you enjoy subtlety in your films, then skip Kick-ass.
"Kick-Ass" is loud, colorful and in your face from start to finish, and is just what the fanboys wanted. It is everything a superhero flick should be, full of great fight sequences, likable characters and absolutely nothing preachy or political about it. It also has enough laughs to keep the mood light, even during the most intense scenes. Forget Iron Man 2, "Kick-Ass" is the action film to see this year.