Listening is theme during Jesus mural discussions
Chapel series jump starts discussion on the Jesus Mural.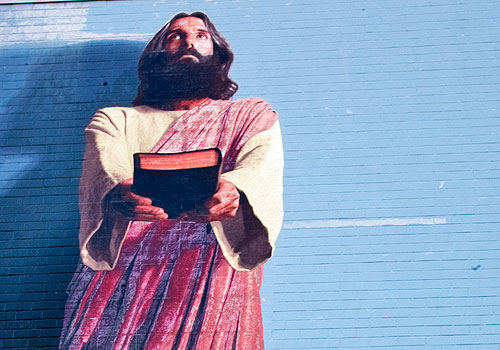 This week's chapel series, Picture This: Love, Justice, and Jesus — has jump started a campus-wide discussion on the issues of art, diversity and theology revolving around Kent Twitchell's "The Word," often referred to as the "Jesus Mural."
Wednesday's chapel featured a panel of Bible professors and faculty with multi-cultural backgrounds. Matt Jenson, Ben Shin, Joanne Jung, Allen Yeh, Ivan Chung and Ashish Naidu took turns answering student questions submitted and considered before the chapel, focusing on the theological implications of the mural. Chung said Jesus teaches us to pray for things to be done on earth as it is in heaven where the body of Christ is comprised of every tribe and nation.
President Corey opened the campus-wide discussion in Sutherland Auditorium last week, emphasizing the importance of listening during the series.
"At the end of the day, my prayer is that we listen … not hear each other's voices but to hear the voice of God," said Corey.
Corey will make a decision in response to mural's need for restoration some time following this week's chapel, according to Pete Menjares, associate provost for Diversity Leadership.
Corey commissioned this week's series along with help of the Diversity Leadership Committee — a campus-wide group consisting of faculty, staff, and student representatives.
Corey also led a Monday chapel Q&A with artist Kent Twitchell, who donated the mural as a gift to the university. Twitchell said he never imagined that a mural of Jesus would offend people on a Christian campus. He intended the mural to represent the Word of God.
"Most of the controversy at the time was what version he was holding," said Twitchell, referring to the Bible that Jesus holds in the painting. "I just wanted to paint certain things that would help people to understand we were fearfully and wonderfully made."
Twitchell said that if he was in the wrong, he'd be the first to take the mural down. He said he felt like some students used the mural simply as a device to discuss their opinions.
Sophomore art major Amanda Rountree said it broke her heart to discover that Twitchell never intended to cause pain to Biola but had a desire to portray Biola in the best light possible.
"I personally feel very grateful for him, especially the work he's pioneering for Christians in the arts," said Rountree, who believed that judging an artist by one work could not compare to a "lifetime of expression" to fully communicate an idea.
BSA president sophomore Velena Jones appreciated the historical background provided at Monday's chapel, but felt the painting was taken way out of proportion.
"There's too much emphasis on the fact that Jesus is on the wall and that if he's not there, there's a loss of faith," said Jones. "As Christians, we should already have God in our heart, why do we need a mural?"
Discussion about the mural started back in 1993 during Black History Month. The first meeting between the artist and students took place that Easter when Twitchell and several students dialogued about the mural's ethnic impact. According to alumnus Joel Perez, Twitchell never offered to have the painting "sandblasted," but offered to move the mural elsewhere.
Two and a half years ago, administrators decided to restore the aging 30-foot mural of Jesus for Biola's centennial. Menjares made it clear that the mural was still a source of discussion and concern to students. A student forum was held in April 2008 in response to the decision allowing students to voice their concerns about decisions concerning the mural's restoration.
"Our hope is that our students would learn to surrender the self to God whether it's this particular issue or if it's a trial of any kind in their spiritual walk," said Menjares.
The series will continue with a Thursday evening student forum in Sutherland Auditorium and a concluding Friday chapel at which student leaders will read student responses submitted on index cards at Thursday night's forum.