Carell and Fey take viewers out for a fun 'Date Night'
"Date Night" starts with an overused premise that has appeared in recent films. But it turns into a film that will have viewers laughing all the way through.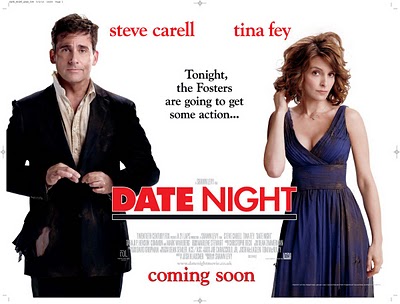 Much like its main characters, "Date Night" starts with a boring, overused premise that has appeared in recent films like "Did You Hear About the Morgans?" However, the film takes an interesting twist towards the end and, with the help of its lead actors and a few unique scenes, manages to pull together a comedy that will have viewers laughing all the way through.
Phil and Claire Foster (Steve Carell and Tina Fey) are in denial about their marriage. They like to think their ordinary marriage could never lead to divorce, but after their friends announce they're getting divorced and encourage the Fosters to "take flight," the Fosters must admit to the reality of their formulaic and failing relationship.
The Fosters' idea of a date involves sitting at a small table at a ma and pa restaurant while observing other couples and guessing their stories. Their dating life becomes far more exciting, however, when they leave the suburbs for a night in the city and take the reservation of a no-show at an expensive restaurant. Their new identities throw them into danger when two rogue cops show up with guns demanding the "Tripplehorns" return what they stole from a mobster. After a narrow escape, the Fosters go through a number of loops to find the real couple and uncover the truth. Suddenly, their story becomes the one worth telling.
Carell and Fey's comedic timing makes this "Date Night" one worth telling. The two comedians' ability to improvise gives the film a needed extra push. No doubt about it, the two have chemistry. Without them, the film would be fun, but nothing special.
Fortunately for us, Carell and Fey add spice to the film, especially in a would-be racy scene in which the two are forced to pole dance together.
Unfortunately, some of the film's funnier scenes are more shocking than they are funny. "Date Night" includes as much dirty humor as can be expected out of a PG-13 comedy. With the use of the allowed one F-word in a PG-13, a few references to certain parts of the body and a topless security expert who sleeps around (Mark Wahlberg), the film is anything but clean. Some of the senseless name-calling that takes place between Mr. Foster and the real Tripplehorns takes on unnecessary and not-so-funny lengths.
Other scenes, while laugh-worthy, seem unbelievable. One wonders why a cheap, criminal couple like the Tripplehorns would reserve a table at an expensive restaurant; and could two cars that crash at a slow speed really get so smashed together that they become almost impossible to separate?
An ending involving a rough mobster and a corrupt, sex-addicted politician makes for a predictable and unrealistic, yet enjoyable, ending as well.
Despite the film's set-backs, positive and moral themes prevail, promoting a healthy and loving marriage relationship. The Fosters get what they want: a more exciting marriage. Through one chaotic night, they learn they can make their ordinary marriage an adventure, even in everyday life.
The Fosters' troubles provide plenty of laughs, making the cliché plot more interesting. Although "Date Night" in no way stands up to Carell and Fey's regular gigs on TV, "The Office" and "30 Rock," it boasts a hilarious car tug-a-war among a great deal of romping throughout New York city.
The majority of "Date Night" follows a predictable plot, but Carell and Fey make the predictable and unexplainable into a "Date Night" worth having.