'Live from Montreal' is a delicious musical blend
Ben Harper's second live album documents his band's July 12, 2009 performance at the Montreal International Jazz Festival in Canada.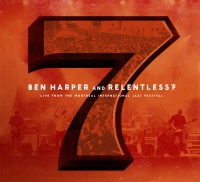 Mind-blowing, soul-ripping energy surges from Ben Harper's newest release, "Live from the Montreal International Jazz Festival." This is only Harper's second full live album release since "Live From Mars" in 2001 and is fueled by raging slide guitar and hearty bass lines that blend rock, folk, soul and blues into flavorful and tantalizing sounds that cross national, racial, and generational tastes. If your mouth isn't drooling yet, it should be.
Featuring his latest backing band, Relentless 7 (Jason Mozersky on guitar, Jesse Ingalls on bass and Jordan Richardson on drums), "Live from Montreal" documents the band's July 12, 2009 performance at the Montreal International Jazz Festival in Canada. Closing out the 10-day event with over 150,000 audience members in attendance, the recording itself is absolutely wild. It's clean and crisp with prolific amounts of energy that'll keep you enthralled; once you start listening, you won't want to stop.
The album opens with punch-drunk base lines and grizzly guitar licks on "Faster Slower Disappear Come Around," previously unreleased on any other albums. "Number With No Name" follows with grungy guitar fused with the wild twang of Harper's Asher slap guitar, which he plays with impeccable skill. The classic "Shimmer and Shine" highlights the album with its combination of jazz, rock and pop that creates both an energetic and soulful ballad.
Furthermore, you won't be able to control the urge to dance after saturating your ears with the sounds of "Why Must You Always Wear Black." The music grabs your body and will throw you around in a frenzied dance of head shaking and foot stomping as Mozersky wails on his Les Paul 1959 Sunburst while Ingalls' spirited and soulful bass lines get you feeling good.
If that isn't enough, the band's cover of Jimi Hendrix's "Red House" will get you absolutely fired up, but prepare yourself because this song is filled with dirty, dirty guitars and soul-gripping lyrics. "There's a red house over yonder / that's where my baby stays," Harper howls. "Well, I ain't been home to see my baby / in about ninety nine and one half days."
Mellow, feel-good groves follow with "Another Lonely Day." With its smooth guitar rifts and close-knit intimacy, emotion pours out with a sense of loneliness flowing from the guitar strings and the depths of Harper's voice. Though with a surge of hope Harper softly sings, "yet for now it's just another lonely day," reminding the listener that there won't always be lonely days ahead.
Not only is "Live from Montreal" jam-packed with 13 rip-roaring songs that will get you revved up but the album is also packaged as a CD/DVD combo. It contains a visual feast of live performances including "Skin Thin" and "Fly One Time," exclusive bonus songs on the DVD that you won't want to miss. With close-ups of Harper's intricate finger work on the slide and overhead views of Richardson's creation of bombastic drum beats, the DVD will keep you coming back for more.
And just for the record, "Live from the Montreal International Jazz Festival" isn't an album one should listen to simply for the sake of listening to something in the background of his or her busy day. It is worthy of undivided attention. Experience it. Engage it. Immerse yourself in it. Let Harper's music move and stir your soul. Trust me, you won't regret it.