Sub-par acting strips 'The Runaways' of a rock-'n-roll encore
"The Runaways" follows a female rock band's struggle toward stardom, their dizzying rise to fame and their inevitable crash and burn.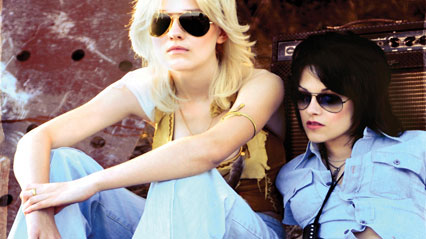 Joan Jett and Cherie Curie are just two 16-year-old girls, living the rock 'n' roll life of 1970s Hollywood. They sometimes see each other at the parties they frequent, but they do not know each other from Eve, that is, until a well-known local band manager decides to make legends out of them. Named "The Runaways," they begin to gain ground as rock 'n' roll jailbait, the first all-girl rock band ever. What follows is their struggle toward stardom, their dizzying rise to fame, and their inevitable crash and burn.
The biggest draws going for "The Runaways" are its intriguing lead actresses, Kristen Stewart and Dakota Fanning. Stewart plays the angsty, hardcore rocker, fists held high and ready to leave her mark in the history books. She makes it her goal to depose the established norms, taking on a life of hard partying and one-night stands with whomever is interested. Of the five band members, Stewart is the source of energy, the leader. Fanning plays the teenage sex kitten, the band's cover girl with the ample gift of good looks and not much else. At first she embraces the raucous arena of rock, but the deeper she sinks, the more she finds herself pining for another world.
Stewart's performance definitely rises to the occasion in this film. In fact, hers is the most believable character. Stewart defines punk rock and her dark energy propels the otherwise sub-par acting that saturates this film. Naysayers take heed: Stewart has a definite voice as an actress, one that supersedes and leapfrogs any unease her acting in the Twilight Saga may have triggered. This is a punk girl who isn't afraid to play more complex roles and play them well.
Fanning's depiction of the innocent rocker-turned-druggie-porn-star certainly arouses curiosity from her fan base. The young actress has a lengthy history of acting roles where her naivete was practically her calling card, and now this? Indeed, the only real reason this film endured the rigors of the film industry was because Fanning wanted to make a new name for herself as a mature young lady. This is Fanning's grown up coming-out film, not unlike Britney Spears' rite-of-passage single, "… Baby One More Time."
Curious enough, Fanning's character ends up renouncing the drugs that slowly crept into her life and ends her journey by taking up the life of a responsible adult; wizened and somehow thankful for her wild years as the band showgirl. By this strange turn of events, we leave her almost as innocent as we found her, with that innocence supposedly unmarred. This must have been a crucial detail in her consideration for this part; how can a young ingénue keep her chaste image and still show the world she's ready for action? Let audiences watch her as she dabbles in the risqué, then returns willingly to the safety of the status quo. (As a side note, the "status quo" ends up being Fanning working contentedly in a department store, wearing … an apron? What is this, the 1950s?)
The one possibly alluring subplot of "The Runaways" lies in the relationship between Joan Jett and Cherie Curie, but even this is too thin to support this cumbersome film. The two girls instantly hit it off, pushed together by the angry charges of their manager and the adversities of band life. But as life with The Runaways grows evermore crazed and fast-paced the two bandmates begin to break apart and you cannot help but feel remorse for their broken relationship.
However, all things considered, this film is anything but engaging. Even the special effects sequences come off as clumsy and rash. Writer-director Floria Sigismondi knew that the Jett-Curie plotline would be key, but utterly failed to instill interest in that or any other aspect of this film. The cinematography is entirely forgettable and the supporting actors (Michael Shannon as the band manager, and a background role by Alia Shawkat) are unlikable, if not void of emotion.
If you had never heard of "The Runaways" before reading this review, then do not give this film a second glance. And if you do happen to know who this breakout all-girl band is, well, I'd recommend buying "The Best of The Runaways" on Amazon and forgetting this film ever existed.