Durant — much more than tall and scrawny
The newest team in the NBA, the Oklahoma City Thunder, has its very first superstar in Kevin Durant.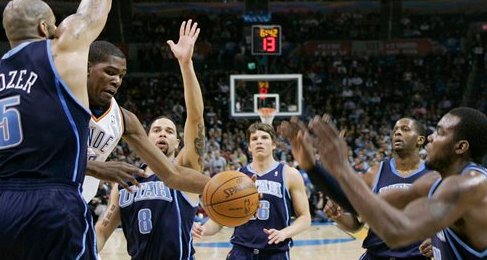 The newest team in the NBA, the Oklahoma City Thunder, has its very first superstar in Kevin Durant.
Durant was a talented basketball player ever since his youth. Durant played for the PG Jaguars, a team that was heralded as one of the greatest youth teams of all time in the AAU basketball league. Durant led the Jaguars to many championships with the help of another future NBA star, Michael Beasley. Durant also went on to play with another AAU team, the DC Blue Devils, and played with another future NBA player, Ty Lawson. Durant went on to play two years of high school ball at National Christian Academy before transferring to the famed Oak Hill Academy. For his senior year, Durant attended Montrose Christian School, where he grew five more inches, increasing his height to 6' 7", and later into the season grew two more inches, changing his role from a guard to a forward.
The next year, Kevin Durant joined the University of Texas's basketball team as one of four freshman starters. Durant had a great season with the Longhorns, earning the NABC Division I player of the year, the Adolph F. Rupp trophy, and the Oscar Robertson trophy.
After his freshmen year at Texas, Durant entered the 2007 NBA draft and was selected by the hapless Seattle Supersonics with the second pick in the draft. In the last game of the season, Durant posted his first double-double, scoring 42 points and 13 rebounds. Durant had a great rookie outing and received the Rookie of the Year Award.
In the 2008-2009 season, the Supersonics moved to Oklahoma City and became the Thunder. Durant had another solid season, and even won the first HORSE contest on NBA All-Star weekend.
Durant's length, athleticism, and great shooting stroke have made him a great force on offense, as he can beat opposing teams from both the three-point line and the paint. Durant's strength had been a concern, as his thin frame would result in him getting pushed around by much thicker and stronger forwards in the league, but Durant has been putting up great numbers despite his scrawny build.
This season, Durant has captured another HORSE title, and is looking to lead the Thunder to their first playoff appearance — one of many to come with Durant leading the way.