Burton's "Alice" is deeper, darker and a letdown
Tim Burton's "Alice in Wonderland" goes deeper than other "Alice" tales, but it doesn't measure up to Burton's other films.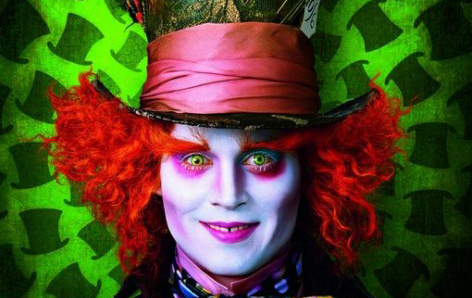 Continuing his tradition of creating surreal, imaginative films such as "Edward Scissorhands" and "Sweeney Todd," Tim Burton has once again worked his magic on the retelling of the classic Lewis Carol tale, "Alice in Wonderland."
The film stars a much older Alice (Mia Wasikowska) who has become sick of constantly being told to act "proper." While at a party, she is informed that the man she has been dancing with is going to ask her for her hand in marriage. Alice's mother tells her that she must accept, for he is a lord, and it would be the best thing for her to do, though it is against Alice's wishes. When the lord proposes to her, she becomes nervous and runs off into the forest, where she falls into a rabbit hole that leads her to Wonderland. Once in Wonderland, she is confronted by the White Rabbit, Tweedle-Dee and Tweedle-Dum, who are all happy to see her once again, though she has no recollection of her first journey into Wonderland. Alice is told that she is the chosen champion that must defeat the Jabberwockey and free the animals from the rule of the Red Queen.
"Alice in Wonderland" is not merely a rehash of the well-known story, but an interesting mix of three of Carol's works: "Alice in Wonderland," "Through the Looking Glass" and even his short story, "The Jabberwockey." Burton's take on the children's classic showcases the trademark style that has made him famous and is somewhat darker than the book, appealing to some of the more mature moviegoers, but retains enough clever humor and the Disney charm that we have all come to know and love for the younger audiences.
"Alice in Wonderland" is visually stunning with its epic landscapes and massive castles, improving on the look of the original animated Disney classic. Much of Wonderland looks like a mix of '70s psychedelic imagery and the backdrop from "The Nightmare Before Christmas." The 3D craze is in full swing and the film is definitely worth the extra few dollars for the glasses, as the effect is used at every opportunity — and used well.
However, the 3D technology could still use improvement. Certain scenes looked like pages out of a pop-up book, leaving the characters looking like cutouts. Costume design is also top-notch, with many of the characters sporting obscene amounts of makeup. Tim Burton's greatest strength as a filmmaker has never been subtlety, and you can't expect anything different in this film.
"Alice in Wonderland" is helped by a great cast, as Burton chose two of his favorite actors to work with: both stars from "Sweeney Todd," Johnny Depp and Helena Bonham Carter. Johnny Depp naturally embraces his role brilliantly as the Mad Hatter, and Helena Bonham Carter plays the evil Red Queen. Anne Hathaway departs from her usual roles and plays the stunning and virtuous White Queen.
"Alice in Wonderland" is a solid take on the original story, though it does not quite stack up to the quality of Burton's previous films. Burton's works have been following similar formulas, and the formula is starting to get old. The story is fairly predictable and the script is nothing out of the ordinary. The extreme amount of hype surrounding the film makes for a slight letdown, as the story is hardly different from the original.
Ardent fans of Carroll's works will enjoy "Alice in Wonderland" more than the average moviegoer will because of the allusions to his other works. The film also fails to give some of the key characters enough depth for audiences to care about them. Alice's desire to be herself and to follow her own rules is a common and overused theme in films as of late, although the coming-of-age aspect of the story strings the audience along and rewards their patience with Alice finally growing up and fulfilling her destiny.
"Alice in Wonderland" is Burton's usual fare from start to finish but succeeds in creating a vivid and strange world with even stranger characters. If you are a huge Burton or Carol fan, then this movie is for you. If not, the beautiful 3D effects and magnificent special effects will keep your attention.