Bottlenecks hamper earthquake relief
Up to 50,000 feared dead in devastating 7.0-magnitude Haitian earthquake that struck on Tuesday.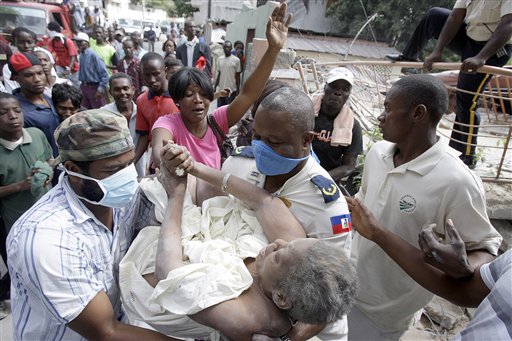 PORT-AU-PRINCE, Haiti (AP) — Doctors and search dogs, troops and rescue teams flew to this devastated land of dazed, dead and dying people Thursday, finding bottlenecks everywhere, beginning at a main airport short on jet fuel and ramp space and without a control tower.
The international Red Cross estimated 45,000 to 50,000 people were killed in Tuesday's cataclysmic earthquake, based on information from the Haitian Red Cross and government officials. Hard-pressed recovery teams resorted to using bulldozers to transport loads of dead.
Worries mounted, meanwhile, about food and water for the survivors. "People have been almost fighting for water," aid worker Fevil Dubien said as he distributed water from a truck in a northern Port-au-Prince neighborhood.
From Virginia, from France, from China, a handful of rescue teams were able to get down to work, scouring the rubble for survivors. In one "small miracle," searchers pulled a security guard alive from beneath the collapsed concrete floors of the U.N. peacekeeping headquarters, where many others were entombed.
But the silence of the dead otherwise was overwhelming in a city where uncounted bodies littered the streets in the 80-degree heat, and dust-caked arms and legs reached, frozen and lifeless, from the ruins. Outside the General Hospital morgue, hundreds of collected corpses blanketed the parking lot, as the grief-stricken searched among them for loved ones. Brazilian U.N. peacekeepers, key to city security, were trying to organize mass burials.
Patience already was wearing thin among the poorest who were waiting for aid, said David Wimhurst, spokesman for the U.N. peacekeeping mission.
"They want us to provide them with help, which is, of course, what we want to do," he said. But they see U.N. vehicles patrolling the streets to maintain calm, and not delivering aid, and "they're slowly getting more angry and impatient," he said.
In Washington, President Barack Obama announced "one of the largest relief efforts in our recent history," starting with $100 million in aid. The first of 800 paratroopers of the 82nd Airborne Division were bound for Haiti from North Carolina late Thursday, to be followed by more than 2,000 Marines. The American troops "will relieve pressure" on overworked U.N. elements, Wimhurst said.
From Europe, Asia and the Americas, other governments, the U.N. and private aid groups were sending planeloads of high-energy biscuits and other food, tons of water, tents, blankets, water-purification gear, heavy equipment for removing debris, helicopters and other transport, and teams of hundreds of search-and-rescue, medical and other specialists.
But two days after much of this ramshackle city was shattered, the global helping hand was slowed by the poor roads, airport and seaport of a wretchedly poor nation.
Some 60 aid flights had arrived by midday Thursday, but they then had to contend with the chokepoint of an overloaded Toussaint L'Ouverture International Airport. At midday, the Federal Aviation Administration said it was temporarily halting all civilian flights from the U.S. at Haiti's request, because the airport was jammed and jet fuel was limited for return flights. The control tower had been destroyed in Tuesday's tremor, complicating air traffic. Civilian relief flights were later allowed to resume.
"There's only so much concrete" for parking planes, U.S. Air Force Col. Buck Elton said at the airport. "It's a constant puzzle of trying to move aircraft in and out."
Teams that did land then had to navigate Haiti's inadequate roads, sometimes blocked by debris or by quake survivors looking for safe open areas as aftershocks still rumbled through the city. The U.N. World Food Program said the quake-damaged seaport made ship deliveries of aid impossible.
The looting of shops that broke out after the 7.0-magnitude quake struck late Tuesday afternoon added to concerns. The Brazilian military warned aid convoys to add security to guard against looting by the desperate population.
"There is no other way to get provisions," American Red Cross representative Matt Marek said of the store looting. "Even if you have money, those resources are going to be exhausted in a few days." The city's "ti-marchant," mostly women who sell food on the streets, were expected to run out soon. Red Cross officials have estimated one-third of Haiti's 9 million people are in need of aid.
The quake brought down Port-au-Prince's gleaming white National Palace and other government buildings, disabling much of the national leadership. That vacuum was evident Thursday, as no senior Haitian government officials were visible at the airport.
"Donations are coming in to the airport here, but there is not yet a system to get it in," said Kate Conradt, a spokeswoman for the Save the Children aid group. "It's necessary to create a structure to stock and distribute supplies," the Brazilian military said.
Edmond Mulet, a former U.N. peacekeeping chief in Haiti, arrived Thursday from U.N. headquarters in New York to lead the relief effort, along with a U.N. disaster coordination team. The first U.S. military units to arrive took on a coordinating role at the airport, but State Department spokesman P.J. Crowley underlined, "We're not taking over Haiti."
Wimhurst said the Haitian police "are not visible at all," no doubt because many had to deal with lost homes and family members, and law-and-order needs had fallen completely to the 9,000 U.N. peacekeepers and international police in Haiti.
Across the sprawling, hilly city, people milled about in open areas, hopeful for help, sometimes setting up camps amid piles of salvaged goods, including food scavenged from the rubble. Small groups by roadsides could be seen burying dead. Other dust-covered bodies were being dragged down streets, toward hospitals where relatives hoped to leave them. Countless remained unburied, stacked up, children's bodies lying atop mothers, tiny feet poking from blankets.
The injured, meanwhile, waited for treatment in makeshift holding areas — outside the General Hospital, for example, where the stench from piles of dead, just a few yards (meters) away, wafted over the assembled living. Crews began removing unclaimed bodies with bulldozers, dumping them into trucks, possibly for mass burial.
Here and there, small tragedies unfolded. In the Petionville suburb, friends held back Kettely Clerge — "I want to see her," she sobbed — as neighbors with bare hands tried to dig out her 9-year-old goddaughter, Harryssa Keem Clerge, pleading for rescue, from beneath their home's rubble.
"There's no police, there's nobody," the hopeless godmother cried. By day's end, the girl was dead.
At the collapsed U.N. peacekeeping headquarters, an Estonian guard, Tarmo Joveer, was pulled alive and unhurt from the ruins at 8 a.m. Thursday, 39 hours after the quake — a "small miracle," Secretary-General Ban Ki-moon said in New York. But U.N. officials reported that 36 other U.N. personnel, mostly peacekeepers and international police, were confirmed dead and almost 200 remained missing, including top staff.
Nearby, firefighters from Fairfax County, Va., and a rescue team from China, with sniffer dogs, clambered through rubble and searched for signs of life. Two excavators stood by, ready to dig for survivors — or dead. A French team, meanwhile, rescued three people alive from the wrecked Montana Hotel, U.N. officials reported.
European and Latin American nations reported scores of their nationals unaccounted- for in Haiti, and a handful confirmed dead. Of the estimated 45,000 Americans in Haiti, the U.S. Embassy had contacted almost 1,000. Only one American was confirmed dead, a veteran Foreign Service officer, Victoria DeLong, killed in her collapsed home.
For the long-suffering people of Haiti, the Western Hemisphere's poorest nation, shock and disbelief were giving way to despair.
"We need food. The people are suffering. My neighbors and friends are suffering," said Sylvain Angerlotte, 22. "We don't have money. We don't have nothing to eat. We need pure water."
But life also went on. Brazilian soldiers helped deliver a baby girl in an improvised garage-hospital at their base, just hours after the quake hit. Capt. Fabricio Almeida de Moura said the child was doing well, but the life of the mother, who apparently went into labor from the shock of the tremor, was in danger from bleeding, the Agencia Brasil news service reported.
The unimaginable scope of the catastrophe left many Haitians, a fervently religious people, in helpless tears and prayer.
Reached by The Associated Press from New York, Yael Talleyrand, a 16-year-old student in Jacmel, on Haiti's south coast, told of thousands of people made homeless by the quake and sleeping on an airfield runway, "crying, praying and I had never seen this in my entire life."
Earlier, she said, one woman had run through Jacmel's streets screaming, "God, we know you can kill us! We know you're strongest! You don't need to show us!"
---
Associated Press contributors to this story: Mike Melia, Jennifer Kay and Gregory Bull in Port-au-Prince; Alexander G. Higgins in Geneva; Edith M. Lederer at the United Nations; Tales Azzoni in Sao Paulo, Brazil; David McFadden in San Juan, Puerto Rico; Adam Geller in New York; Matthew Lee and Pauline Jelinek in Washington.