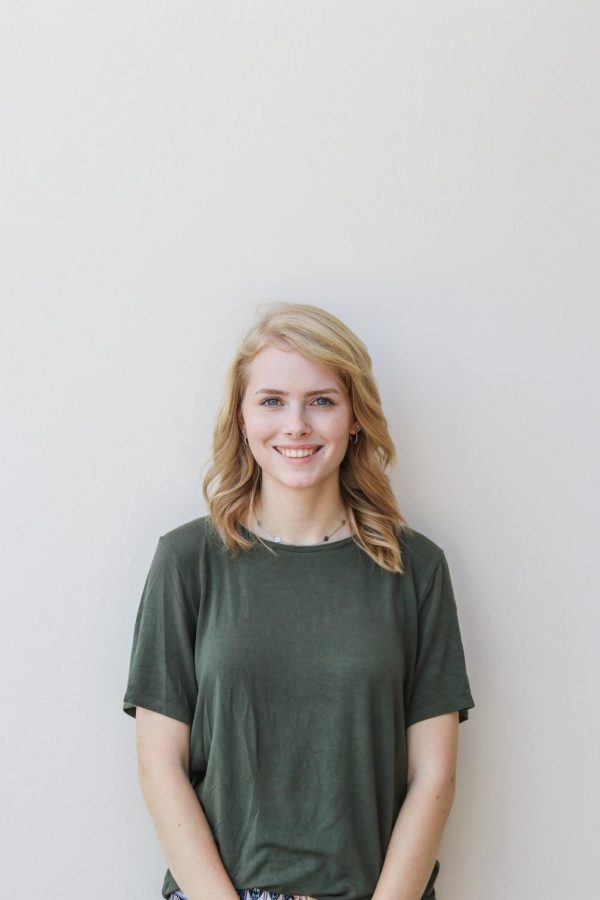 Lauren McBride is a junior Cinema and Media Arts major who enjoys storytelling, thunderstorms, and a good cup of coffee.
I have loved all forms of art for as long as I can remember.  After taking art classes and developing a love for writing throughout my life, I eventually dared to dive into the world of film production.  Coming to Biola from my little bubble in Dallas, Texas, where I had lived my whole life, was a huge step for me, but allowed me to discover my passions more fully.
Being a Cinema & Media Arts major and a Journalism minor has allowed me to combine my loves for both film and writing.  In addition to being a part of the process of creating films, I enjoy watching and analyzing them.  Writing for the Arts & Entertainment section of the Chimes has allowed me to do not only that, but learn so much more about writing about the arts.  I am thankful to be a part of this team.
Lauren McBride, Arts & Entertainment Editor
Dec 01, 2020

'Tis the season for holiday films

(Story)

Nov 17, 2020

Lecrae brings snappy beats and meaningful messages

(Story)

Nov 10, 2020

"Confetti" lacks depth and variety

(Story)

Nov 07, 2020

Check out these quarantine music videos

(Story)

Oct 27, 2020

"Remote" is enjoyable but lacks variety

(Story)

Oct 24, 2020

"Indigo Violet" is creative and important

(Story)

Oct 13, 2020

Theatre 21 and the Conservatory navigate through change

(Story)

Oct 10, 2020

Newport Beach Film Festival showcases Biola student films

(Story)

Oct 03, 2020

LANY brings back heartfelt stories in "mama's boy"

(Story)

Sep 26, 2020

Quarantine motivates Biola's musicians

(Story)

Sep 17, 2020

Students respond to the "Mulan" boycotts

(Story)

Sep 08, 2020

"Zeros" is an instrumental and lyrical masterpiece

(Story)

Sep 01, 2020

Cinema and media arts welcomes Dean Tom Halleen

(Story)

Apr 30, 2020

The most underrated films to stream during quarantine

(Story)

Apr 21, 2020

Jeremy Zucker opens heart in 'love is not dying'

(Story)

Apr 18, 2020

10 books to add to your quarantine reading list

(Story)

Apr 11, 2020

Theatre 21 adapts to remote learning

(Story)

Apr 02, 2020

Check out these 10 must-see short films

(Story)

Mar 31, 2020

Rediscover disco with 'Future Nostalgia'

(Story)

Mar 24, 2020

Indulge in these activities during quarantine

(Story)

Mar 12, 2020

Virtual reality project "Avion" takes flight

(Story)

Mar 10, 2020

"Onward" falls short of expectations

(Story)

Feb 25, 2020

Audiences connect with animals in "The Call of the Wild"

(Story)

Feb 06, 2020

Theatre 21 joins forces with the Conservatory

(Story)

Jan 29, 2020

"The Gentlemen" flaunts elaborate twists

(Story)

Jan 25, 2020

The Brilliance features Conservatory students in latest album

(Story)

Jan 21, 2020

"Dolittle" fails to entertain audiences

(Story)

Jan 14, 2020

"1917" is a powerful work of art

(Story)

Dec 10, 2019

"Dark Waters" keeps you longing for the truth

(Story)

Dec 05, 2019

"Knives Out" satisfies with a classic murder mystery tale

(Story)

Dec 05, 2019

Theatre 21 presents "The Last Five Years"

(Story)

Nov 19, 2019

"Ford v Ferrari" races to success

(Story)

Nov 16, 2019

Torrey Theatre brings "Henry V" to life

(Story)

Nov 14, 2019

Students chill with Kevin Garrett at the Eddy

(Story)

Nov 07, 2019

Tessa Violet dazzles with "Bad Ideas"

(Story)

Nov 02, 2019

Theatre 21 shoots for the stars with "Silent Sky"

(Story)

Oct 24, 2019

Fall for these essential autumn tunes

(Story)

Oct 17, 2019

Devonte Hynes dives into classical music with "Fields"

(Story)

Oct 12, 2019

The best of Blood Orange playlist

(Story)

Oct 01, 2019

Get spooked with this Halloween watchlist

(Story)

Sep 26, 2019

M83 presents a cinematic masterpiece

(Story)

Sep 21, 2019

Fitz and the Tantrums' "All The Feels" fails to show variety

(Story)

Sep 20, 2019

Music Therapy degree program set to come to Biola

(Story)

Sep 12, 2019

The Brad Pitt essential watchlist

(Story)

Sep 03, 2019

Get pumped for the semester with this back-to-school playlist

(Story)

Apr 16, 2019

YouTube channel Clam Chowder showcases artistic talent on campus

(Story)

Apr 04, 2019

Tim Burton gives "Dumbo" a new image

(Story)

Mar 29, 2019

Everything to look forward to in "Stranger Things" season three

(Story)