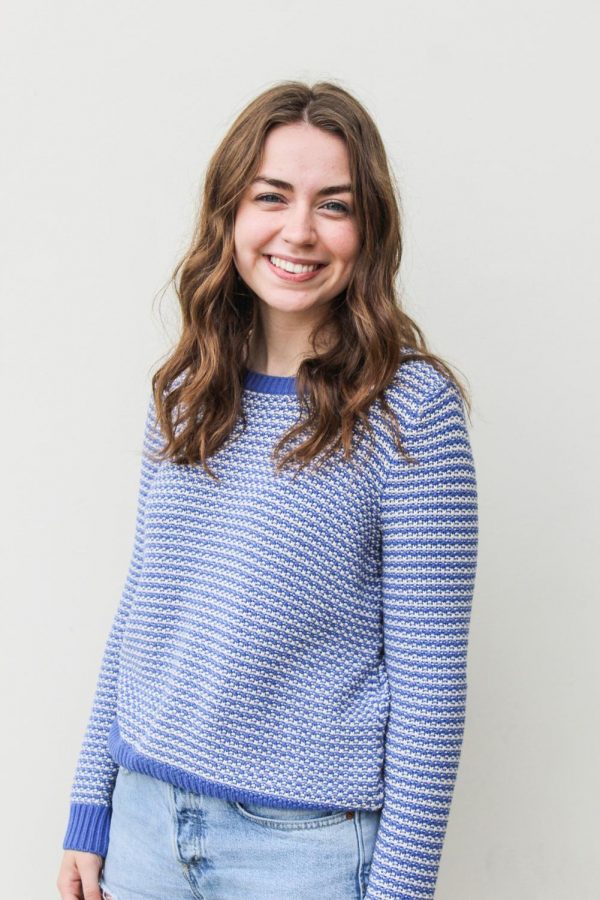 Emily Coffey is a sophomore Journalism major who loves John Mayer, sushi, and a good pen.
My love of the arts and writing began at an early age when my father introduced me to Bon Jovi and my mom introduced me to the magic of the haiku. From there, I quickly learned to write and write music, which then grew into my love of writing about music. Journalism came as a natural expression and combination of these passions.
In addition to Bon Jovi, my childhood included lots of camping, white water rafting, star gazing, and adventures that were feasible during the school year only because my parents home schooled me. When I was twelve years old, my family moved from the sleepy vacation town of Bend, Oregon to Portland, where I grew and experienced a different level of culture. This new environment sparked my curiosity towards finding what influences culture and local ideologies. This passion was further explored when my family moved, again, to Nepal and I became deeply fascinated with women's rights, human trafficking, and the Annapurna mountain range.
Coming to Biola and writing in the Chimes has allowed me to become a better writer, a better friend, and a better believer. In everything I do, I see Christ as the solution to a greater problem; music and writing are simply a way to communicate that.
Emily Coffey, Deputy Arts and Entertainment Editor
Dec 05, 2020

Shawn Mendes' "Wonder" is a sonic wonderland

(Story)

Nov 23, 2020

All the best singles released in the last week

(Story)

Nov 12, 2020

Q&A with Biola film professor Dean Yamada

(Story)

Nov 03, 2020

Ariana Grande breaks records with "Positions"

(Story)

Oct 29, 2020

Adele hosts Saturday Night Live with H.E.R.

(Story)

Oct 23, 2020

Cinema and media arts students create in unique circumstances

(Story)

Oct 15, 2020

Art students reconnect through Make-A-Thing challenge

(Story)

Oct 06, 2020

Bon Jovi releases flavorless "2020"

(Story)

Sep 29, 2020

Melanie Martinez releases "After School EP"

(Story)

Sep 22, 2020

Alicia Keys does it again

(Story)

Sep 19, 2020

"Cuties" stirs controversy

(Story)

Sep 12, 2020

The best 2020 quarantine releases for your fall playlist

(Story)

Sep 05, 2020

Remembering Chadwick Boseman

(Story)

Apr 30, 2020

The most underrated films to stream during quarantine

(Story)

Apr 28, 2020

Other Lives releases a sonic adventure

(Story)

Apr 25, 2020

Conservatory students experience setbacks due to COVID-19

(Story)

Apr 18, 2020

10 books to add to your quarantine reading list

(Story)

Apr 10, 2020

Try these recipes to satiate your quarantine boredom

(Story)

Mar 28, 2020

Conan Gray comes to age in 'Kid Krow'

(Story)

Mar 24, 2020

Indulge in these activities during quarantine

(Story)

Mar 14, 2020

Chorale impresses at prestigious regional conference

(Story)

Mar 14, 2020

Niall Horan's "Heartbreak Weather" lacks spark

(Story)

Feb 29, 2020

In anticipation of Niall Horan's new album, listen to these Niall Horan essentials

(Story)

Feb 23, 2020

Tame Impala enlightens with "The Slow Rush"

(Story)

Feb 22, 2020

Students awarded with budget to shoot original film

(Story)

Feb 14, 2020

Azusa Pacific University joins Biola for Gospel Fest

(Story)

Feb 01, 2020

Green Day albums from best to worst

(Story)

Jan 23, 2020

Mac Miller's posthumous album is an upbeat heartbreaker

(Story)