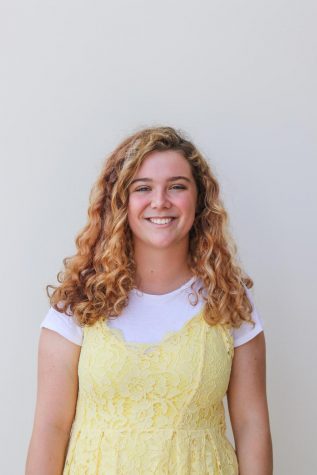 Maria Weyne is a junior journalism student who has a green card, a big brain and loves shrimp.
My love for journalism stemmed from the rich history my home country holds. Being Brazilian introduced me to the awful stories of censorship the country suffered throughout its longest lasting dictatorship. I decided to seek out ways to be able to tell the truth and show the world what really happens behind all the controlled media and information being released. 
I was given the opportunity to immigrate to America in 2014. Moving here introduced me to God and made me even more passionate about telling the truth so I decided to become a journalist. 
Coming to Biola has allowed me to fulfill that desire to share true and honest stories. It has also provided me with the opportunity to work with the amazing Chimes staff and learn more and more about how to be an ethical journalist. 
Maria Weyne
Feb 07, 2020

Start neglecting stress and stop neglecting sleep

(Story)

Dec 11, 2019

Veterans recognized at Christmas tree lighting

(Story)

Nov 21, 2019

SGA Rundown: Merry Merry GRITmas and farm animal petting zoo

(Story)

Nov 16, 2019

Women's swim falls short of win at Dixie State

(Story)

Nov 14, 2019

SGA Rundown: GRITmas proposal, voting and financial caution

(Story)

Nov 12, 2019

"Doctor Sleep" does not fail to amaze

(Story)

Nov 09, 2019

Men's and Women's swim take third overall and beat APU

(Story)

Nov 05, 2019

Crime Log — Oct. 29 – Nov. 4

(Story)

Oct 31, 2019

Office of Financial Aid covers misplaced SGA scholarship funds

(Story)

Oct 26, 2019

Women's soccer extends win streak to seven against Hawaii Hilo

(Story)

Oct 25, 2019

Punk 'n' Pie 2019: a passion for Jackson

(Story)

Oct 24, 2019

SGA Rundown: Budget cuts and voting

(Story)

Oct 18, 2019

SGA Rundown: Open proposals, voting and Midnight Madness

(Story)

Oct 12, 2019

Men's swim team takes the podium while women's dive was short-handed at Pepperdine Invitational

(Story)

Oct 11, 2019

Mental health awareness week brings holistic approach to well-being

(Story)

Oct 09, 2019

Torrey Conference takes off with exploration of "Incarnate"

(Story)

Oct 05, 2019

Eagles take the podium at PCSC Pentathlon

(Story)

Oct 04, 2019

Simple steps to live more sustainably

(Story)

Sep 30, 2019

Startup competition's fireside chats create connections

(Story)

Sep 27, 2019

Redefine success for younger generations

(Story)

Sep 27, 2019

Main water valve outside Thompson bursts, shutting off water to Bluff

(Story/Media)

Sep 20, 2019

Immigration restriction creates unnecessary difficulties

(Story)

Sep 19, 2019

SGA Rundown: open proposals and Student Care

(Story)

Sep 19, 2019

Biola cuts the ribbon on new Veteran Center

(Story)

Sep 12, 2019

SGA Rundown: Pursue Your Passion Week and senate updates

(Story)

Sep 05, 2019

SGA Rundown: Pursue your Passion week, SGA Hour and newsletters

(Story)

Sep 04, 2019

Fall Convocation ushers in the new year and sets new theme for chapel: "With"

(Story)

May 02, 2019

"Newcomers to Neighbors" starts conversation about Middle Eastern migrants

(Story)

Apr 25, 2019

National holiday celebrates administrative professionals

(Story)

Apr 17, 2019

Celebration of Scholarship and Research brings community closer

(Story)

Apr 13, 2019

Harvest Craft provides sustainable food for Haiti

(Story)

Apr 10, 2019

Christians need to fight against the new Brunei Laws

(Story)

Apr 06, 2019

Grandparents Day returns to Biola

(Story)

Mar 28, 2019

Christians need to address depression more often

(Story)

Mar 25, 2019

Venezuela has become a real-life horror story

(Story)

Mar 13, 2019

The problem with child "Influencers"

(Story)

Feb 16, 2019

A recent ski trip raises questions on how SPA plans their events

(Story)