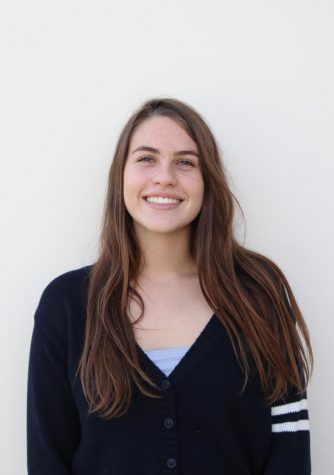 Isabelle Thompson is a sophomore double majoring in journalism and business. When she is not busy with school or work, she is most likely napping, petting dogs or on the lookout for good food and adventure.
[email protected]
Before I chose to come to Biola University, I knew I wanted to be involved in my school's newspaper. After freelancing for the news section my freshman year, I was offered the position of news editor at the Chimes. Journalism is something that truly excites me and plays into my passion for interacting with people, staying informed and communicating through the art of good storytelling.
As a journalist, I have come to realize that I am constantly learning. Whether it is how to properly adhere to the AP stylebook, how to craft insightful interview questions or the specific intricacies of a particular story, I love the whole process of writing an article. With each story I become more confident in my abilities as the things I have learned help shape the way I approach a new story. The connections I get to make along the way have become one of my favorite parts of journalism.
I feel incredibly blessed to have the opportunity to work with the amazing Chimes staff. I strongly believe that the Chimes is a vital aspect of the Biola community as it has continued to provide relevant and accurate information to students and faculty alike. I hope to continue this legacy, pushing the limits of my writing in the pursuit of truth.
Isabelle Thompson, News Editor
Apr 23, 2019

Crime Log ― April 16-23

(Story)

Apr 19, 2019

SGA Rundown: Senators welcome next year's SGA team

(Story)

Apr 09, 2019

Crime Log ― April 2 – April 9

(Story)

Apr 05, 2019

SGA Rundown: Guest speakers inform senators

(Story)

Mar 29, 2019

SGA Rundown: SGA votes on two proposals and prepares for spring training

(Story)

Mar 22, 2019

Missions Conference 2019 continues

(Story)

Mar 15, 2019

SGA Rundown: Senators hear five new proposals and vote on three

(Story)

Mar 12, 2019

Crime Log ― Feb. 27 – March 6

(Story)

Mar 01, 2019

Enrollment hopes boost budget

(Story)

Feb 21, 2019

Senate considers past and new proposals

(Story)

Feb 16, 2019

SCORR organizers talk 'Legacy'

(Story)

Feb 14, 2019

SGA Rundown: Senate talk proposals on limited budget

(Story)

Feb 13, 2019

Carly Micheal wins SMU presidency

(Story)

Feb 07, 2019

Q&A: SMU presidential candidate Dee Jacocks

(Story)

Feb 05, 2019

Crime Log Jan. 28 – Feb. 5

(Story)

Jan 31, 2019

Teachers strike back

(Story)

Jan 30, 2019

$2.5 million donation funds science school's first endowed chair

(Story)

Jan 22, 2019

Crime Log ― Jan. 15 – Jan. 22

(Story)

Jan 17, 2019

Biola blackout cause revealed

(Story)

Jan 14, 2019

Flash flood watch issued for Orange County, San Bernardino

(Story)

Dec 11, 2018

Crime Log ― Dec. 4 – Dec. 11

(Story)

Dec 07, 2018

Deck the Haven brings cheer in the rain

(Story)

Nov 19, 2018

Thousand Oaks shooting devastation hits Biola

(Story)

Nov 13, 2018

Crime Log ― Nov. 6 – Nov. 13

(Story)

Nov 12, 2018

Midnight Madness 2018: The Red Sea parts again

(Story)

Oct 31, 2018

Crime Log ― Oct. 23 – Oct. 31

(Story)

Oct 26, 2018

Punk 'n' Pie 2018: let's taco bout it

(Story)

Oct 25, 2018

Fall Career Expo expands to accommodate 64 booths

(Story)

Oct 17, 2018

Crime Log ― Oct. 9 – Oct.17

(Story)

Oct 12, 2018

Biola reaffirms LGBT policy after controversy at Azusa Pacific

(Story)

Oct 11, 2018

Torrey Conference kickoff celebrates 'Kingdom'

(Story)

Oct 08, 2018

Torrey students participate in a new community outreach program

(Story)

Oct 04, 2018

Campus Safety alerts students after 'transient activity' at Biola

(Story)

Sep 29, 2018

Soaring Stories: Global student Baillie Myers redefines her Identity at Biola

(Story)

Sep 28, 2018

The little dorm that could: Blackstone wins Nationball 2018

(Story)

Sep 25, 2018

Crime Log ― Sept. 18 – 25

(Story)

Sep 19, 2018

Brit Gilmore inspires at the startup competition commencement

(Story)

Sep 12, 2018

$165,000 Hart wall to be complete by October, facilities management says

(Story)

Sep 11, 2018

Crime Log — Sept. 4 – 11

(Story)

Sep 05, 2018

Cinema and media arts prays for the future

(Story)

Sep 04, 2018

Crime Log—April 10 – Sept. 4

(Story)

Mar 27, 2018

Startup competition gives student entrepreneurs opportunities

(Story)

Feb 21, 2018

A new large-scale fundraising campaign begins

(Story)

Jan 22, 2018

Library strives to stay within budget as prioritization process continues

(Story)

Dec 07, 2017

Deck the Haven lives on

(Story)

Nov 29, 2017

Artists reimagine Calvary Chapel

(Story)