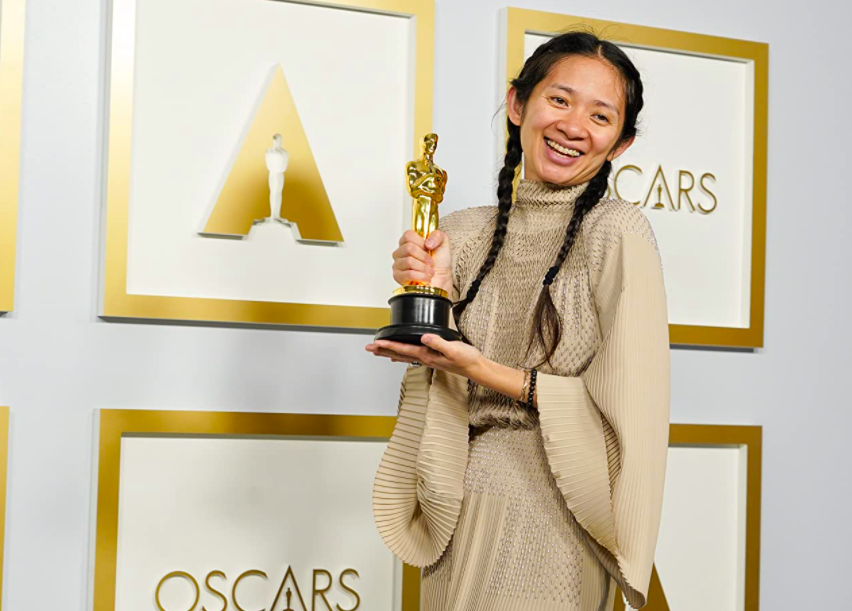 Courtesy of IMDb
Although the annual Met Gala is usually the most anticipated night of celebrity attire, those at the 93rd annual Oscars carried out eye-catching looks. It is a grueling task for celebrities to stand out at events like these, however these five stars outdid themselves with luxurious fits. 
CAREY MULLIGAN 
Nominated for best actress in "Promising Young Women," Carey Mulligan styled a two-piece princess set that had her looking like a modern day Cinderella. With the glimmering gold fabric and a sleek updo, her presence was illuminating as she presented her Valentino gown. According to Vogue, Mulligan's dress "was embroidered with thousands of iridescent sequins with pearl reflections and took 350 hours worth of work."
CHLOÉ ZHAO 
Winner of the best director for "
Nomadland
" and becoming the first Asian woman to win this title, making history and fostering representation for millions,
Chloé Zhao
rocked the red carpet with a simple, yet elegant look. According to
The Cut
, there was a dress code sent out to stars claiming that casual would not be "cool." Although not form fitting or a ball gown, Zhao established her look designed by
Hermès
. This pleated silver finery
stayed true to Zhao's style as she added white trainers, two braids and light makeup. 
COLMAN DOMINGO
Although most men showed up in the average black and white suit,
Colman Domingo
who stars in the nominated film "
Ma Rainey Black Bottom
" came in bold with his fuschia choice. This actor was decked in this single color
Atelier Versace
suit with gold buttons and patterned. crystals. This ensemble took 150 hours to embroider according to
Page Six Style
. 
ZENDAYA 
Former
Disney Channel
star ran the red carpet with her split yellow mermaid gown by Valentino. With beach waves and silver jewelry worth over $6 million,
Zendaya
left her mark at the Oscars. Inside the venue, Zendaya wore a matching yellow mask, being one of the only celebrities to do so. 
AMANDA SEYFRIED 
Lastly, this actress stole the night away with her classic Hollywood look. After being nominated for the best actress in a supporting role in "
Mank
,"
Amanda Seyfried
showed up in a gorgeous red dress.
Designed by
Giorgio Armani
, the tulle full-length gown was initially inspired by hibiscus flowers. With red lipstick and a slick back updo, she stole the night away. 
Interested in seeing more fashion from the Oscars? Check out Harper's Bazaar UK YouTube video which shares the best dressed of all time on the red carpet.