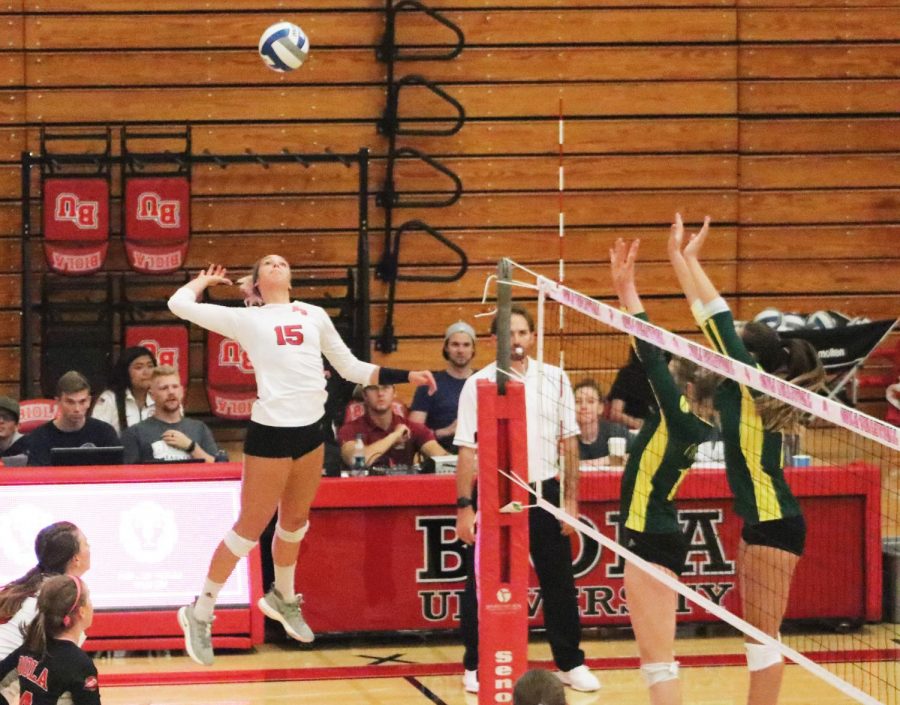 Thecla Li // THE CHIMES [file]
Volleyball returned home Friday afternoon to compete against The Master's University Mustangs in a nonconference game. The women are currently on a four-game winning streak after annialiating the Mustangs, 3-1. 
The Eagles totaled 52 kills, nine aces, 56 digs and nine aces in Friday's game. The leaders in Friday's game were senior middle blocker Bekah Roth, sophomore middle blocker Raegan Tjepkema, redshirt freshman outside hitter Dominique Kirton and senior libero Sami Hover. Roth had 10 kills and two blocks, while Kirton had eight kills. Hover had six aces, six assists and 18 digs. Tjepkema had eight kills, two aces and three blocks. 
ALL ABOUT THE ACES
Biola went back and forth a majority of the four sets. The Mustangs made the first point during the first set and the Eagles responded with three points. From there it was even in terms of each team gaining points. The Eagles went on a four-point streak leaving their opponents unable to catch up and Biola won the first set, 25-18. The women kept the same spirit in set two. The set could have been anyone's considering both teams were making points left and right, but the Eagles did not let up, winning the second set 26-24.
The Eagles were unable to win set three, sending them into a fourth set. The women started off by making five points back to back. This would set the tone as Biola dominated the Mustangs, leaving them unable to catch up or even tie the score, 25-17.
Volleyball (4-2) and will return home to Chase Gymnasium to go against Concordia University Irvine on Wednesday, April 14 at 6 p.m. The livestream will be available on the Biola Athletics website.