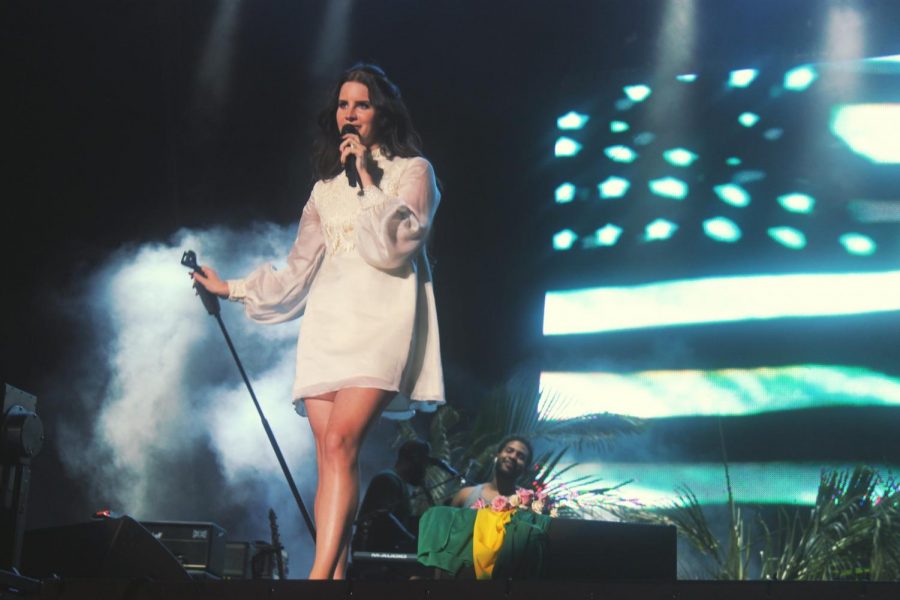 Courtesy of Wikimedia Commons
Staying consistent to her brand, Lana Del Rey brings forth another album of black and white angsty songs about romance, confused adulthood and religion. While many of her previous releases have focused on hard drugs and sex, Del Rey writes about deeper concepts in her latest release, "Chemtrails Over the Country Club," allowing listeners to experience her contemplative, earnest point of view. Del Rey releases a brief, yet memorable collection of songs meant to be played on vinyl—old fashioned, calm and thoughtful. 
SEASONS OF LOVE 
Romance is muddled in Del Rey's latest work—both the good and bad on display. In one of the most popular songs from the album, "Let Me Love You Like A Woman," already having over 4 million listens on Spotify since its release on March 19, she describes the desire to love someone and her craving for intimacy. She writes about her desperation for connection and the fear of love becoming "bittersweet." 
Yet this swoony, positive look at love soon fades with "Breaking Up Slowly." In this dismal look at relationships, she focuses on the letdown of a passionate love. Now contemplating life as a whole, she sings, "if these are her good years or does [she] have none?" 
Tackling heartbreak, Del Rey writes about the strength it takes to move on, and how "it's hard to be lonely, but it's the right thing to do."
In contrast, Del Rey returns with a hopeful message about love, speaking to mutual affection, devotion and life-giving interactions. In "Yosemite," the music lightens in sound and tone, some color appearing between the "shades of cool." She writes about the comfort in dependable connection—"seasons may change but we won't change." Del Rey appears more optimistic as she sings about enduring love and the ways that authenticity is something to strive for.
HOME IN HOLLYWOOD
From the black and white album cover to the references to film and Hollywood, Del Rey returns to her continual conversation on Los Angeles living. Coated in dirt and nostalgia, Del Rey brings a number of new songs about fame and Hollywood culture and the pain and confusion that comes with calling it home. 
"Wild at Heart" tackles the gloomy, dismal setting of L.A., nestled among crowded streets and large buildings. Del Rey describes the rebellion of Hollywood culture and the divergent lifestyle found within the city. She writes stunningly about "the camera flashes" and "smoking cigarettes just to understand the smog." "Dance Till We Die" continues this dismal look at city living, Del Rey contemplating the hardship of city-based love and her own desire to leave L.A. behind, desiring new experiences and life away from the wealth and fame. 
COUNTRY CLUB QUALITY 
With the quality of a country club, Del Rey provides a more complex, moody exploration of her own fame, religion and love in its many forms. Lacking her usual controversial, superficial quality, "Chemtrails Over the Country Club" is more thoughtful in its approach and its message is much clearer, yet consistent with Rey's tone and style that fans have been attracted to since "Paradise." Both emotional and focused on new beginnings, Del Rey diversifies her brief collection of songs, ones certain to be new favorites from one of the most iconic indie rock singers of the decade.