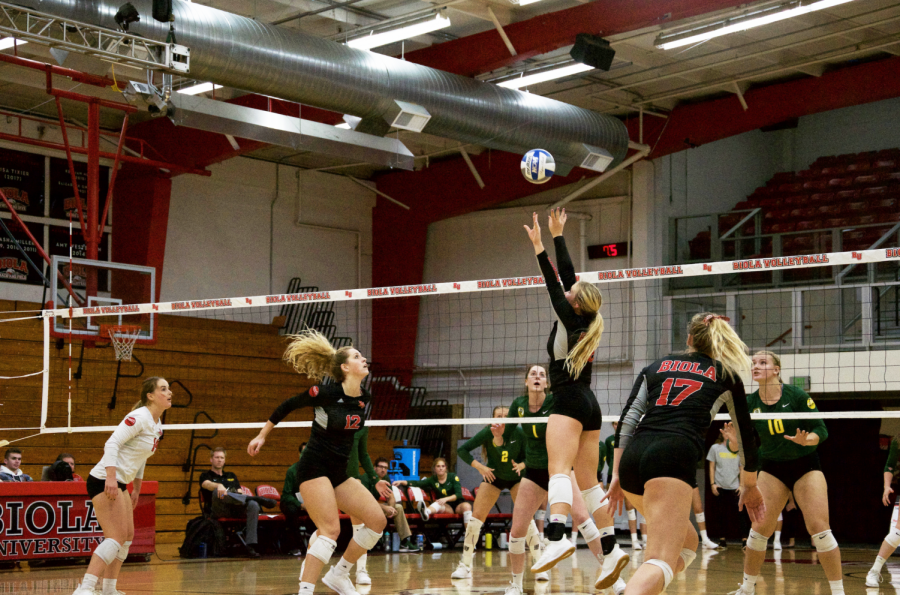 Addison Freiheit // THE CHIMES [file]
Volleyball has had a slow start to their PacWest season. The women headed to Concordia University Irvine on Wednesday, March 24 for their third game. Biola bounced back and won the 3-2 in a five-set match.
The Eagles totaled 50 kills for the night. Sophomore outside hitter Madison Beebee gained 13, redshirt freshman outside hitter Dominique Kirton got 11 and redshirt freshman middle blocker Dani Bryant had 10. Senior libero and defensive specialist Sami Hover gained a total of 28 digs and libero and defensive graduate student Brandee Markwith gained 19 digs.
KILLING THE GAME
Biola lost the first set 25-20, but came back to win set two, 27-25, and set three, 25-20. The fourth set was back-and-forth but Biola could not increase the deficit past CUI. Unfortunately the Eagles lost set four, 25-18.
Regardless of the loss Biola came into set five hot and hopeful. Biola secured the first two points, CUI tied the score 2-2. The set was back-and-forth for the first five points. The Eagles soared and took the lead 10-6. Concordia was able to catch up and increase their deficit 12-11, but their efforts were not enough as the Eagles pulled ahead winning the set, 15-11. The women won overall, 3-2.
Volleyball moves to 1-2 and will return home to Chase Gymnasium and go against Azusa Pacific University on Wednesday, March 31 at 6 p.m. The livestream of the game will be available on the Biola Athletics website.