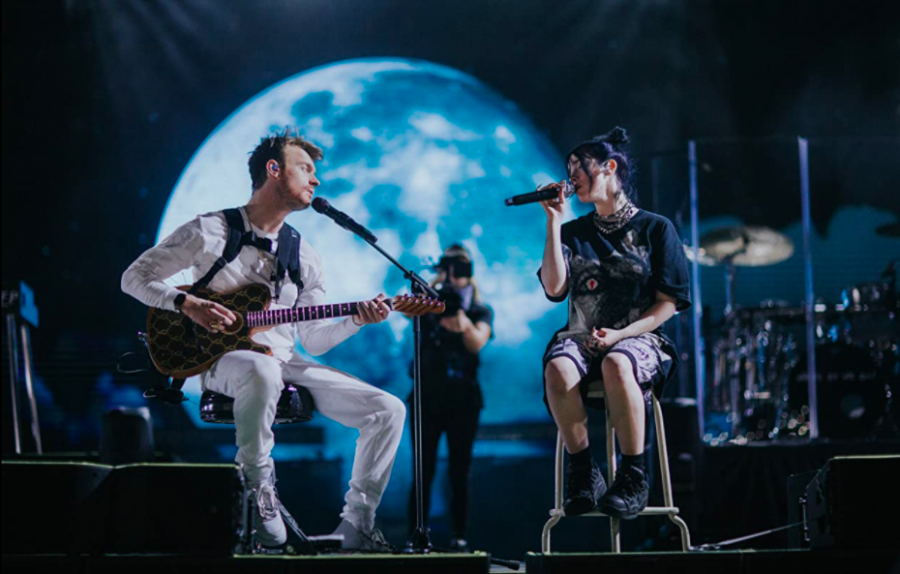 Courtesy of IMDb
Recently released on Apple TV, "Billie Eilish: The World's a Little Blurry" brings fans into the personal, endearing and shocking world of stardom for Eilish. Beginning with her first record deal and entering into her current successes, the film aims to display the process and passion behind her work and expose the depression, setbacks and isolation that Eilish associates with her rise to fame. 
While many celebrity documentaries emphasize the glamour of stardom, Apple TV focuses on the darkness, as Eilish describes it—the pressure, the distance and even expected failure that comes with being a young celebrity. 
ENDEARING SHOTS OF EILISH 
While dark ooze dripping down her face and dark ballads about love are often associated with Billie Eilish, this documentary takes an intimate look at her during the beginning of her fame, working alongside her famous brother Finneas. The two bicker and spend endless nights working to maintain Eilish's image and spend a great deal of time mocking one another and goofing off in between takes, documenting the funniest moments of their family life. 
Eilish breaks down on multiple occasions about the pressure of her art and the way her passions have isolated her from those she loves the most—her friends, her family and even the possibility of maintaining a romantic relationship. 
Much of the content in the film focuses on the dismal aspects of Eilish's life, yet her relationship with her brother and parents early on adds depth and comfort to the film, connecting with her upbringing and quaint roots in downtown Los Angeles. From her mother helping her model for her music video to her brother including a track about her retainer, the film makes sure to display the importance of family in the star's life and the way their interactions dictated not only her fame but also her view of life and love. 
SAYING GOODBYE TO NORMALCY 
"Billie Eilish: The World's a Little Blurry" spends a majority of the screen time emphasizing the transition from normal life to one filled with performances, fame and instant wealth. When most teens are applying for college and making the most of the last days of high school, Eilish describes the grueling schedule that comes with performance, her struggles with her own mental health alongside physical ones and the pressure to succeed. 
Relatable and often devastating, the star comes to terms with the benefits and drawbacks of being able to share her art as well as how it has cost her much of her happiness and sense of belonging—lost in constant travel, crowds of fans and others' opinions. 
WHEN THE PARTY'S OVER… TWO HOURS LATER 
One of the most problematic aspects of the film that critics have taken note of is its length. Reaching just over two hours, "Billie Eilish: The World's a Little Blurry" is engaging but loses excitement nearly halfway through. Eilish is interesting, disturbed and often hilarious, but her moody glimpse into fame only holds its weight for so long. With long takes from her concerts and jumbled footage taken by the artist herself, the movie feels fragmented and haphazardly produced, almost as messy and muddled as Eilish's entrance into the limelight. 
Loyal listeners may find the film worth the watch. Others may see the lengthy film as an overshare, one that could have had the same message with a shorter run time. The content is interesting and helps break the illusion that fame is as glamorous as it appears on television and in magazines. Eilish's story doesn't appear too different from that of others in the industry. She does include pieces about her physical limitations that add depth and a more encompassing understanding of all she has overcome, yet her message of resilience is bogged down by some unnecessary commentary and content that might be best left off the small screen.