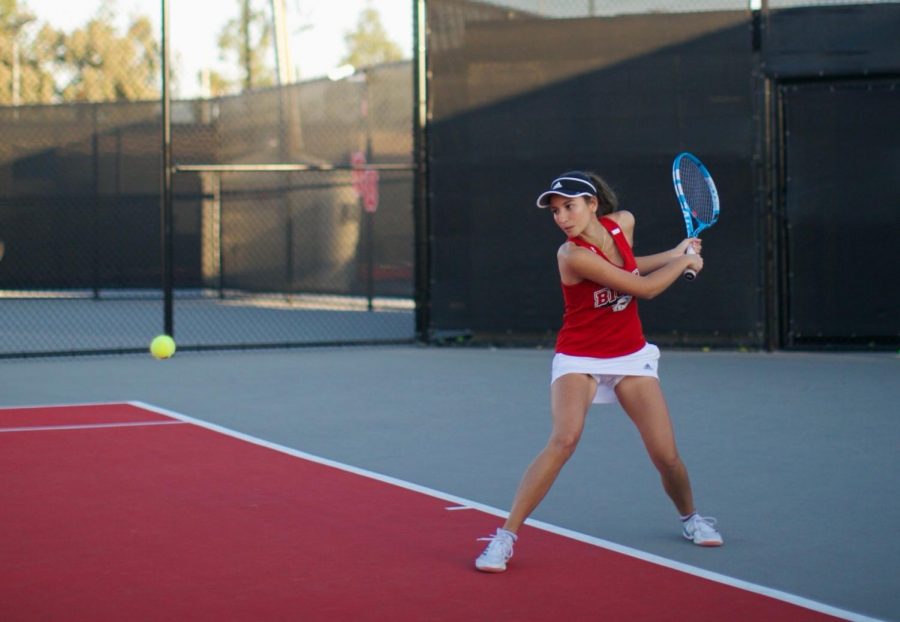 File // THE CHIMES
The men and women's tennis teams hosted Concordia University Irvine at the Biola Tennis Center on Friday afternoon. What was predicted to be a challenging win came true, as the Eagles fell to the No. 14 and No. 25 seeded CUI Golden Eagles, both 1-4.
MIGHTY-LESS MEN
The men took to the courts first in three rounds of doubles. Sophomores Antonio R. Varona and Alexei Prokopchuk took the first loss of the day, losing their doubles 3-6. Freshman Isaac Cordova and sophomore Alex Sedeno put up a good fight in the second doubles, but still fell 4-6. Sophomores Sebastian Herrera and Andres Meneses won the first set, 5-4, but the final set went unfinished.
The singles matches had but one ray of hope. Herrera took the individual match to three rounds, winning the last two and scoring a point for Biola. However, the rest of his team was not as lucky. Sedeno and Meneses both left the courts with their singles unfinished. Prokopchuk, Varona and Cordova all were defeated in their individual matches as well.
WOMEN IN WORK
The women stepped on the courts shortly after the men's loss in hopes of redemption. Freshmen Brooke Fager and Lilly McNeill won their doubles match, 6-4, but the rest of the squad fell short. Freshman Colbyshae Emery and sophomore Mary Brascia took it to the wire, but came out on the short end, 6-7. Freshmen Ameila Kitts and Gaby Carvajal found it difficult to keep up in their doubles, losing 2-6.
Like the men, the lady Eagles only had one teammate win a singles match. McNeill won her individual matches with ease, 6-0, 6-1. Fager, Carvajal and Brascia all were taken down by CUI. Sophomore Ines Dias and Emery left the courts with singles matches unfinished.
The men (1-1) will head to San Diego, Calif. on Saturday, Feb. 20 at 2 p.m. to take on Point Loma Nazarene University. The women will remain in La Mirada, Calif. for a matchup with Westmont College on Friday, Feb. 19 at 2 p.m.