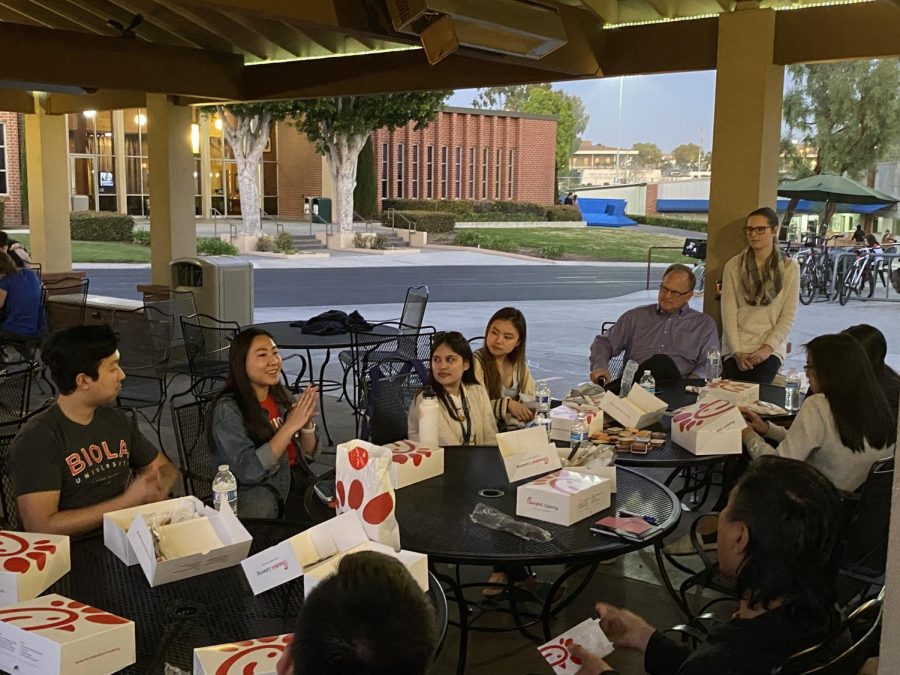 Biola celebrated the launch of the Office of Innovation and Entrepreneurship, also known as the Biola Launchpad, on Monday at 5 p.m. at the Fireplace Pavilion.
About a dozen students joined the office's Operations Manager Jordan Terranova and Executive Director Robert Harp to share Chick-fil-A sandwiches and ideas to further entrepreneurship at Biola. 
"The vision of the Biola LaunchPad is to catalyze innovators and entrepreneurs to flourish in their giftedness and build Christ-honoring, world changing ventures," Terranova said at the event. 
Entrepreneurship is a way for students to explore creative ideas and bring them to fruition, said senior business administration major Esther Yuwono, who attended the event. 
"[I'm excited about] seeing the ideas that come up from this whole thing," she said. "I just feel like there's so many unexplored ideas that are in Biola."
FOSTERING INNOVATION
Under the Provost's office, Biola Launchpad will house the university's existing entrepreneurship initiatives, including the student-led Entrepreneurship Society, the annual Startup Competition, the entrepreneurship talk series Fireside Chats and the third-party entrepreneurship conference Praxis Academy.
The office also aims to expand support for entrepreneurship on campus via scholarships to students, grants to faculty and events with locally and nationally leading entrepreneurs. Its leaders are working with all nine schools at Biola to add new events and both curricular and co-curricular activities to connect students with innovation on campus. 
"A lot of students we find have a great idea and they know they want to do it, but they give up because they don't know how to get from, 'I have this great idea in my head' to 'I have made this idea a reality,'" Terranova said. "What we have is the experience to give students the coaching, the mentorship, the support, the financing, all those kinds of things to actually see their idea become realized."
The Biola LaunchPad will also offer scholarships to students who demonstrate an innovative and entrepreneurial spirit. The Innovation and Entrepreneurship Scholarship is funded by private donors and the fund sits at $157,010, according to an email from Harp. The application will open this semester and the first scholarship will be awarded Fall 2020. 
ENTREPRENEURSHIP EXPANSION
The idea of creating an entrepreneurship office separate from the Crowell School of Business began less than a year ago. Entrepreneurship at Biola had been gaining momentum for the last five years, but was previously a "one-man show" spearheaded by Harp, Terranova said. 
The new office affords the opportunity to hire student workers, increase its operations budget, run more efficiently and deliver more value to students, Terranova said. The office received a large donation in December and launched officially Jan. 1. The office is now fully staffed as of Feb. 10.  
By placing entrepreneurship activities under the Provost's office instead of the business school, the office hopes to spread entrepreneurship to the wider Biola community, Terranova said. 
"I was doing some research last week and just looking at a list of top entrepreneurs in the world, and very few of them had a business degree," she said. "By keeping ourselves in the business school, we are saying that we believe that entrepreneurs are business people. And we don't believe that. We believe that anyone with a creative idea and a desire to see change take place can be an entrepreneur."