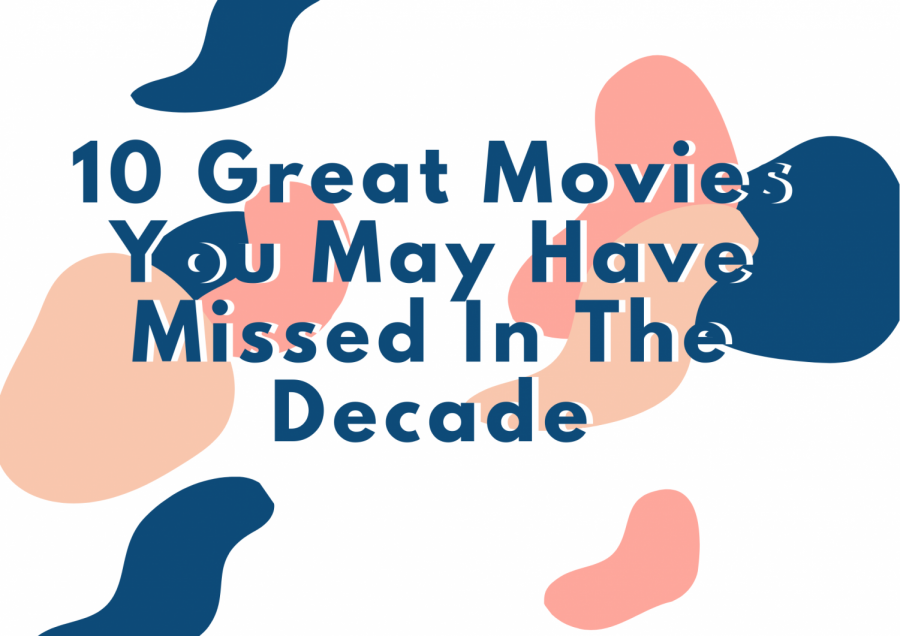 As the 2010s wrap up, many film fans are racking their brains for the best movies of the decade. While movies like "La La Land," "Inception " or "Get Out" may come to the forefront of many fans' minds, many great films did not receive the praise they deserve. Whether it was a box office failure or little attention during awards season, these 10 movies are the most overlooked of the decade. 
"Bernie" (2011)
Including love, loss, morticians and murder, "Bernie" journeys through the story of a casket salesman and his out-of-control relationship with one of his customers. Jack Black shines in this dark comedy set in the heart of Texas, and the film's unexpected turns and gut-punching laughs keep viewers on the edge of their seats.
"Looper" (2012) 
Before experiencing contempt from Star Wars fans across the globe, Rian Johnson delivered an impressive sci-fi flick, where a bounty hunter is tasked to kill the future version of himself. The premise alone should be enough to warrant a watch. Not to mention, the world-building and compelling characters make this film beyond enjoyable.
"Me and Earl and the Dying Girl" (2015)
Many films attempt to balance comedy and tragedy but often fail. Plus, achieving this feat with teenagers seems nearly impossible. Yet, in "Me and Earl and the Dying Girl," director Alfonso Gomez-Rejon accomplishes this brilliantly. Telling the story of a high school senior who begrudgingly befriends his neighbor after she has been diagnosed with cancer, the film navigates difficult topics with grace. Blending off-the-wall and somewhat absurd humor with heartbreaking moments, this film is truly a master of all traits. 
"Steve Jobs" (2015)
Unfortunate circumstances prevented the film from making the splash it should have. "Jobs," the 2013 biopic of the famous Apple founder, failed to impress critics and audiences. This prevented "Steve Jobs"––which came out two years later––from being noticed by audiences. Yet, Danny Boyle's unique approach is worthy of your time. Rather than surveying Jobs' entire life, the film takes place before three major press conferences in Jobs' life. Michael Fassbender's impressive performance and Aaron Sorkin's engaging dialogue create a memorable biopic.
"Your Name" (2016) 
While the film saw success overseas, even becoming the highest-grossing movie of 2016 in Japan, the amazing love story failed to make the same impression in the U.S. A cross between "Freaky Friday," "Interstellar" and "Sleepless in Seattle," this teenage romance across time and space makes for some mind-bending sequences. 
"Logan Lucky" (2017)
Steven Soderbergh showed he is capable of making a great heist movie with "Oceans 11." In "Logan Lucky," he takes his skills to the plains of North Carolina and the asphalt of a race track. Channing Tatum and Adam Driver shine as brothers who plan to pull off the most daring heist in NASCAR history. With the intensity of his previous heist films, Soderberg implements amazing twists and turns to this hilarious ride.
"It Comes At Night" (2017) 
The marketing did not do this film justice. The trailers posed the film as a monster thriller, while the true monsters of the movie are within the main characters. The tense atmosphere creates a sense of claustrophobia that makes the film constantly engaging. 
"Searching" (2018)
The gimmick of storytelling through screens was tainted in audience's minds with the "Unfriended" franchise. This story builds off that trope in new and inventive ways. Telling the story of a young girl's disappearance, the movie takes audiences on an intense thrill ride. 
"Beautiful Boy" (2018) 
After "Call Me by Your Name," Timothee Chalemet became a fan favorite among young actors. Yet, his wonderful follow-up, "Beautiful Boy" did not receive nearly the same level of attention. Although it is difficult to watch at times, detailing the true story of a drug-addict and his father, the film shows new sides of both Chalemet and Steve Carrell, who portrays his father. Despite its challenging moments, the film's hopeful message leaves viewers with a glimmer of light. 
"Waves" (2019) 
Breaking all conventional storytelling rules, "Waves" is one-of-a-kind. Telling two love stories, the film dazzles with jaw-dropping cinematography and spectacular performances. The diverse soundtrack, featuring Alabama Shakes, Frank Ocean and Kanye West, set a beautiful backdrop to the heartbreakingly human story. This film is out now and, while receiving critical praise, is not receiving the audience clamor it deserves. With great themes of family, love, hate and forgiveness, this is the movie 2019 needs.