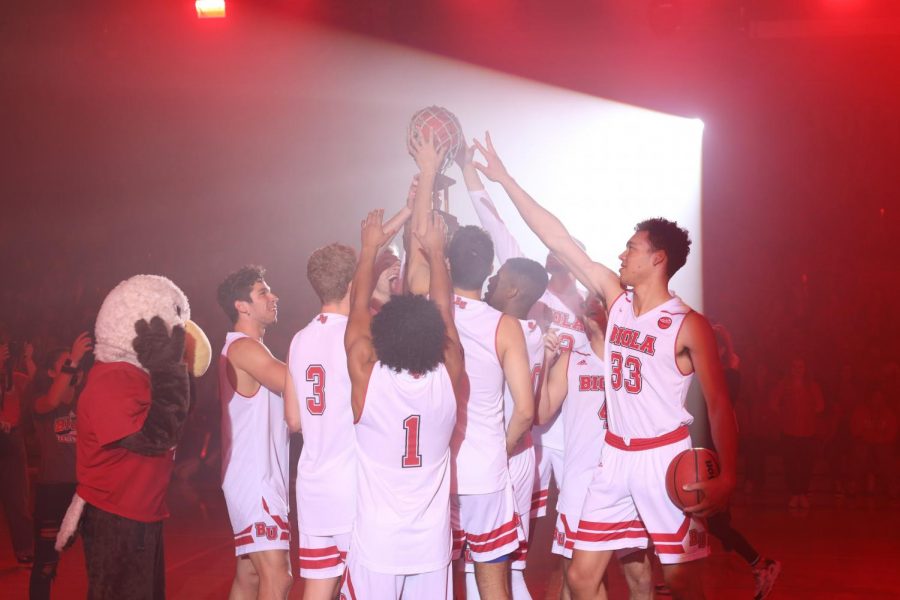 Andres Ramirez // THE CHIMES
Red lights flooded the gym as students piled into the bleachers. They were welcomed by cheerleaders waving glittering pom-poms and music so loud it sent vibrations through the floor. The night began with performances by Biola's dance team, cheer squad and the beloved Eddy the Eagle. 

A WELCOME TO PROSPECTIVE STUDENTS
Spirits were high as students shared in the annual pep-rally traditions alongside prospective students who attended University Day. For freshman communication studies major Max Krusiewicz, this day is not only important, but memorable.
"It's super cool because I decided to come to Biola after University Day, after Singspiration," he said. "And then now I get to be on the other side of that and see prospective students going through the same thing I went through and have their lives changed by University Day."
After Eddy the Eagle finished shaking his tail-feathers, the spirit teams lined the gym floor, cheering on each member of the women's and men's basketball team as they were introduced. The crowd roared as the athletes ran into the center of the gym, preparing themselves to go head-to-head in their first match.
COMPETITION TIME
The two teams faced each other in a 3-point competition with four sharp-shooters from each team participating. The women were victorious in last year's matchup, finishing with a score of 30-19. Sophomore kinesiology major Haley Gantt was pumped to represent the women's basketball team in this year's competition.
"I look forward to this every season," she said. "It's a good team bonding experience and fun to do with the whole school."
The buzzer went off, the sea of students roared and the players lined up to shoot their shot. It was a steady first round in the beginning, ending with a tie of 4-4. As the competition progressed, the men claimed victory with a winning score of 27-22 by the final round. Sophomore journalism major Cade Carroll mentioned that the men's team lost last year, so he was overjoyed to see his team take back the trophy. 
"We were just having fun with it, but definitely a little bit of competition. [We] wanted to win a little bit. I'm glad we won." Carroll said.
Gantt explained that the women's team was off to a good start, but lost their groove once the buzzer alarmed. 
"The three-point competition was good, we were definitely draining them before it even started, but then once it started we got a little cold," she said. "We'll get them next year."
After the match, those who were in the stands rushed to the middle of the gym, dancing to celebrate their victors. For Carroll, the best part of Midnight Madness was the community and bonds that were built between athletes and the student body.
"I feel like sometimes the sports teams kinda seem distant or cut off from the rest of the school," he said. "So, getting everybody out here and kinda getting to know us and getting to interact with the students a little bit just helps us all come closer together."