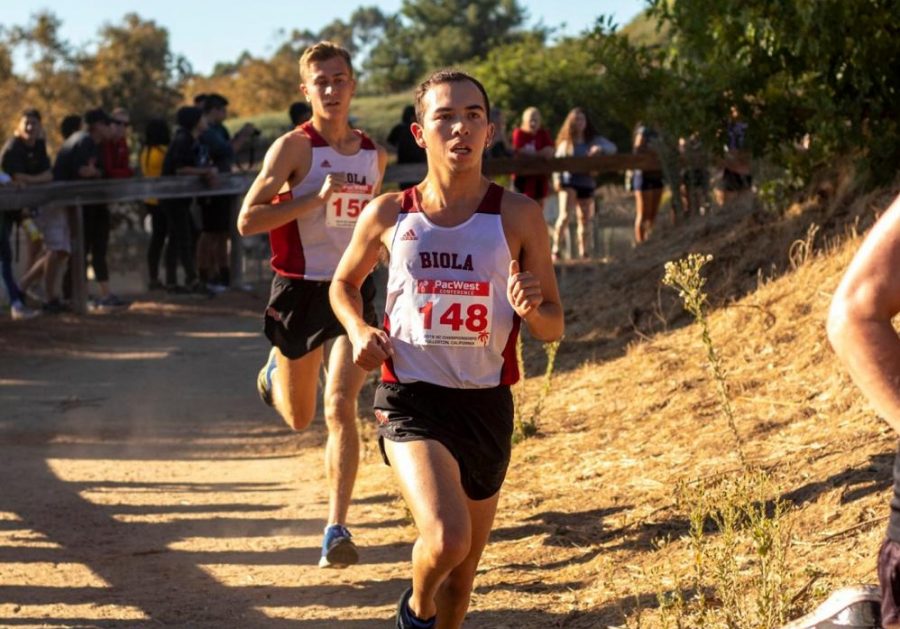 Courtesy of Biola Athletics (file)
After the men won the PacWest Cross Country Championships on Oct. 26 and the women placing second, both teams traveled to Monmouth, Oregon to compete in the NCAA Division II West Regional Championships on Saturday. The men picked up a top-10 finish by a strong performance from senior Gabe Plendcio, earning the team sixth place out of 28 teams. The women had new season bests but fell short by placing 14th out of 27 teams.
MEN PLACE HIGH IN 10K
In the 10k race, four Eagles placed within the top 50 to earn the top-10 finish overall. Plendcio led the Eagles by finishing in fourth and earning the top PacWest conference runner finish in the race. He also finished with a time of 30:01.2. Junior Angel Escobar finished in 24th with a time of 30:45. 
Sophomore Brady DeHaven finished 34th in 30:59.9 and junior Ryan St. Pierre followed behind in 40th with a time of 31:05.7. Sophomore Jared Donnel rounded out the scorers times by finishing 65th in 31:43.2. 
Chico State University swept the 10k race by an average runner time of 30:11 and 43 points. The Eagles finished the regional championships by placing sixth by an average runner time of 30:55 and earned 167 points. 
The men are strong contenders to compete in the NCAA Division II National Championships on Nov. 23 in Sacramento, California. The Eagles will find out in two days whether the men's team or Plendcio will represent the Eagles at the National Championships. 
WOMEN EARN NEW SEASON BEST TIMES
All five of the Eagles' top scorers earned new season best times in the 6k race. Junior Mackenna Mason led the women by placing 25th and earned a new season best by a time of 21:24.7. Sophomore Grace Catena finished neck-in-neck with a runner from University of California, San Diego by finishing in 61st with a time of 22:09.2. 
Sophomore Clara Haynes finished 91st with a time of 22:32.0 and senior Kaili Waller finished closely behind in 95th with a time of 22:33.9. Senior Amanda Reyes picked up the last score for the Eagles by finishing in 108th by a time of 22:40.6.
Overall, Chico State dominated in the 5k race by an average runner time of 21:10 and 75 points. The Eagles concluded their season by placing 14th in the championships by an average runner time of 22:16 and 268 points. Biola also finished as the second-best PacWest Conference team, while Fresno Pacific University came first in 12th place.