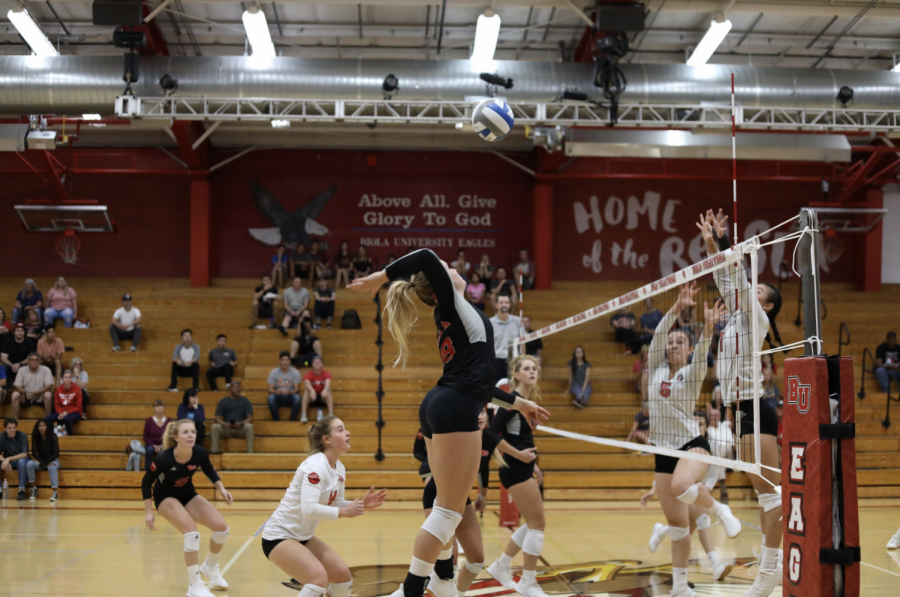 Andres Ramierez // THE CHIMES
Biola volleyball kept their momentum going with another clean win on the weekend against the Holy Names Hawks. Head Coach Aaron Seltzer's team showed up to Chase Gymnasium, sending the Hawks home in three quick sets.  
SHOWING UP STRONG
"I thought our seniors did a great job of setting the tone and did a good job in film and we spent a good amount of time preparing," said head Coach Aaron Seltzer. "We had great energy tonight and just played really well defensively." 
Strong defense throughout the three matches was not the only thing that lifted Biola above their competitors. Freshman blocker Raegan Tjepkema was a consistent scorer for the Eagles, and was especially incredible from the service line with five aces for the second day in a row.
Tjekpkema was proud of how her team came out with energy after being away from home for so long and said, "it's way more comfortable playing at home because this is where we practice and we're in here every single day." 
STAYING CONSISTENT
Junior outside hitter Bekah Roth continued to dominate the court this weekend for the Eagles. She ended with a team-high 11 kills and hit .400 against the Hawks. She came out of the two home games with 24 kills and hit at least .400 in both the wins. 
Redshirt freshman setter Abby Brewster, 5 kills, and senior outsider Sabrina Winslow, 6 kills, also did most of the hitting damage for BU for the afternoon. In addition to these heavy hitters, junior libero Sami Hover played excellent defense with 17 digs. 
HOLDING ON
The late rally by the Hawk's proved that no team can ever be taken lightly. "Anybody can beat anybody," said senior outsider Becca Branch, "There's been so many upsets in our conference and that just shows that you can't let up for a minute."
BU started out set three with an 8-2 advantage, holding at least a four to five-point advantage throughout the majority of the game. HNU finally answered back, stunning Biola with seven points in a row to finally take a 21-19 lead over BU. The Eagles had three unforced attack errors that landed just outside the box to give the Hawks three of these seven points.
The determined Roth finally broke the Hawk's rally with a kill, inching the score gap back to 21-20. The two teams traded points until freshman outsider Madison Beebe took charge on the court, slamming one home to start three-straight points for Biola. Back-to-back errors from Holy Names allowed Biola to complete the sweep, 26-24.
Biola's record improves to 7-4 in the PacWest conference and 10-9 overall. The Eagles will have their last road trip of the season next week in Belmont, California against Notre Dame De Namur University. They will be back at home Nov. 8 for an eight-game home stretch to finish the season.