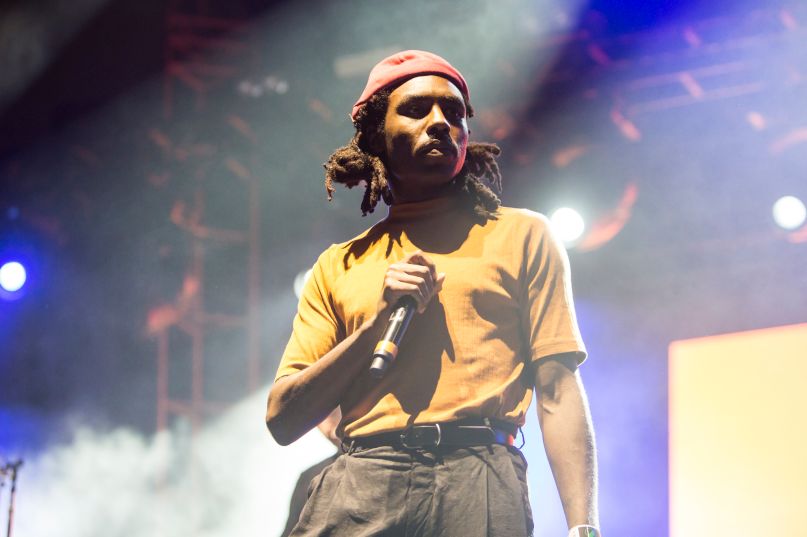 Courtesy of consequenceofsound.net
Music from indie-alternative artist Devonté Hynes, otherwise known as Blood Orange, is characterized by gorgeous vocal harmonies, unique tunes and stunning instrumentals. The fact that nearly all of the songwriting, instrumentals and producing are done solely by Hynes himself is a feat in itself. With five albums under his belt and more to come, be sure to check out these iconic Blood Orange necessities before listening to classical album "Fields."
"No Right Thing"
Despite its upbeat instrumentals and addictive beginning, this track paints a picture of what it feels like to let someone you love go. While Hynes carries the tune for the most part, background singer Samantha Urbani chimes in toward the end to add a mesmerizing blend of vocals.
"Hope"
This song from one of Blood Orange's more recent 2018 albums employs the perfect combination of soft vocals, charming instrumentals and hip-hop. Featuring Diddy and Tei Shi, the addition of rap mixed with dazzling piano instrumentals is a unique choice, but not to a fault. The seemingly odd combination showcases more of Blood Orange's songwriting talent.  
"Best to You"
Perhaps one of Blood Orange's most well-recognized songs, "Best to You" shines as the star of the artist's third album, "Freetown Sound." Hynes focuses on instrumentals and sound engineering in this track, passing off the role of vocals to Lorely Rodriguez, known for her experimental pop and R&B music. This upbeat song is easy to get hooked on, and is a must-add for your playlist.
"Saint"
A song that spent much time in the studio before its release in 2018, "Saint" encapsulates who Blood Orange is through lyrical themes, unique instrumentals and melodious harmonies. The song reportedly began production before the 2016 album "Freetown Sound" and traveled with Hynes from studio to studio before its final release
"You're Not Good Enough"
One of Blood Orange's most popular hits, this song carries an invigorating tune and conveys a retro vibe. Complete with characteristic guitar riffs and harmonies, the song ends with a full minute of ambient bar-like noises, where listeners hear loud conversations, background music and even a game of ping pong.
"It Is What It Is"
From Blood Orange's sophomore album "Cupid Deluxe," the song intrigues listeners with its unique, expressive instrumentals. Once again blending the vocals of Hynes and Urbani, "It Is What It Is" portrays an encouraging message that life is not worth stressing out over and despite what the current situation is, things will improve over time.  
"Forget It"
Featured in his debut album, "Forget It" holds the title as one of Blood Orange's earliest tunes. Expressing the dangers of finding value in people and relationships, this exhilarating song is likely to have you dancing on your feet. Not to mention, the epic guitar solo in the middle of the track truly makes it memorable.
"Benzo"
While Blood Orange's latest album "Angel's Pulse" shifts into hip-hop, he provides a soothing tune with "Benzo." The song signifies Blood Orange's growth and also serves as an ideal track to unwind to.