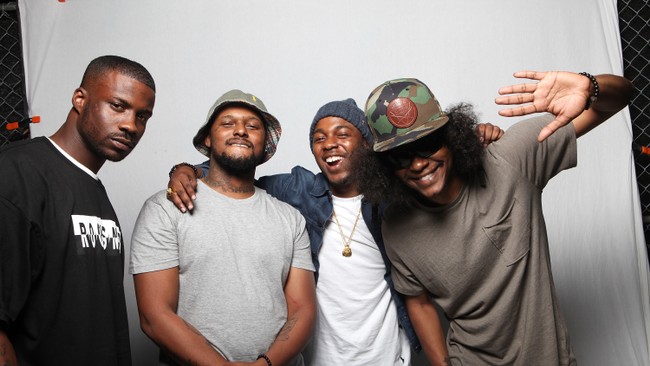 On April 15, Schoolboy Q's announced his fifth studio album "Crash Talk" will release on April 26. The South Central native is no stranger to the spotlight, as his major-label debut "Oxymoron" earned the no. 1 spot on the Billboard 200 back in 2014 and his fourth album "Blank Face LP" hit the no. 2 spot in 2016. Since then, Schoolboy Q has evolved, keeping fans on their toes for nearly three years. Recently, he has given listeners a taste of his new album with the singles "Numb Numb Juice" and "Chopstix." Before you dive into "Crash Talk" next Friday, listen to some favorites from his previous albums.
"Hell of a Night"
If there is one thing Schoolboy Q can take pride in, it is his ability to deliver music for different kinds of hip-hop fans. His track "Hell of a Night," from "Oxymoron," shifts the focus from Q's street stories to his inner party animal as he blends trap beats and fast-paced party lyrics. "Hell of a Night" takes listeners through a wild ride and gives a glimpse of Q's crazy life.
"Man of the Year"
If you ask someone if they know about Schoolboy Q, their mind would most likely go to his track "Man of the Year." The platinum single dives into Q's prideful side as well as his perspective of LA, which is why it is more than just a typical fiery club hit. Although listeners perceive it as a party song, the track includes Q's perspective of his native street life, allowing listeners to see from his eyes.
"Prescription/Oxymoron"
Blending haunting production with dark, gritty lyrics and brutal honesty, "Prescription/Oxymoron" dives the deepest into Schoolboy Q's criminal past. Before he turned to music, Q was a drug dealer, and the track details the stakes that he took to sell his products. Not only does Q give listeners a glimpse of his past actions, he lets listeners in on his motives.
"Vanity slave, got whips and chains, dirty money, clean money the same," rapped Q in the third verse.
"Prescription/Oxymoron" is an incredibly dark track that dives into some uncomfortable territory, but if the listener is looking for a story, the song delivers it.
"John Muir"
Similar to "Prescription/Oxymoron," "John Muir" gives fans another glimpse of Schoolboy Q's childhood, plunging into Q's ambitions, goals and attitudes. Focusing on the street life Q grew up in, the track paints a visual story of his South Central childhood.
"Dope Dealer"
If there is any track on the "Blank Face LP" that mixes storytelling with hardcore production, it is "Dope Dealer." Produced by one of the heaviest hitters in hip-hop production, Metro Boomin gives Schoolboy Q the necessary tools for a story, producing a fun, fiery track. Fast and consistent, the track also features one of the biggest faces of Bay Area hip hop, rapper E-40.
"Hands on the Wheel"
Early in his career, Schoolboy Q collaborated with Harlem-based rapper A$AP Rocky in his second album "Habits & Contradictions" for the drug-fueled track "Hands on the Wheel." With nearly perfect chemistry, the two rappers complement each other's flows and rhythm. Schoolboy Q flaunts his ability to combine psychedelic and relaxation with a fast pace, making the track one of Q's most unique.
"Electric Body"
A$AP Rocky's "Electric Body," featuring Schoolboy Q, allows fans to see that Q is a force to be reckoned with, regardless of if it is within his own work or not. Q's style and rhythm fit perfectly with the track's production, presenting his versatility in hip-hop through his aggressive flow and untouchable tone. Although the production is new, Schoolboy Q fans will be satisfied in hearing the flow they know and love.