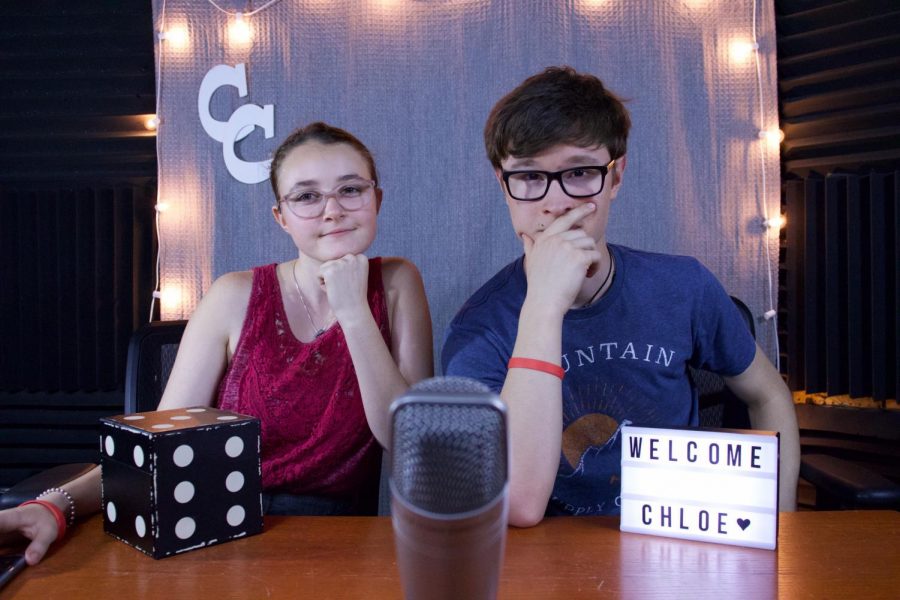 Courtesy of Cam Anderson
Biola's campus is populated with artistic students with quirky gifts and passions, as freshman business major Cam Anderson and freshman sociology major Chloe Roloson have recognized. The two have started a YouTube channel called Clam Chowder, where they host weekly episodes that showcase artistic students who write music, build puppets and participate in speech and debate, among other things.
The two say their love for art and desire to help others chase their passions motivated the creation of Clam Chowder. Roloson found inspiration one night after helping Anderson, a practiced singer, musician and songwriter, record one of his songs.  
"We were bored and wanted to come up with a business idea," Roloson said. "Eventually it would be this big corporation where we could consult with artists and help people record and produce music and that kind of thing."
The YouTube channel releases a promotional video every Monday for artists that are featured in podcasts later in the week, as well as vlogs of the creators experimenting with the highlighted art forms for themselves. In the podcasts, Anderson and Roloson interview artists about their experience with their art, providing them with an opportunity to showcase their skills and explain why they are passionate about what they do. Through the creation of these videos, Anderson and Roloson have the opportunity to practice a wide range of other hobbies that they enjoy, such as filming, editing and animation.
CREATIVE START TO A FUTURE BUSINESS
The idea for Clam Chowder originated from the pair's desire to come up with an effective business, with Anderson describing their idea as an "all-inclusive platform for creators and artists."
Since they currently do not have the resources to turn their idea into a full-fledged business, Anderson and Roloson have been working to grow their YouTube and Instagram presence.  
"We'll start out by recording videos with these people, or interviews, and we're hoping that one day it would be something where we could host workshops where people can come and learn from the same type of people who are being on these interviews," Roloson said.
PASSION FOR ART
As they did not have the ability to pursue art full-time, Clam Chowder was a creative way for Anderson and Roloson to practice their passions while giving others the opportunity to showcase what they love to do.  
"We wanted to make a space where people could come and pursue what they're passionate about and what they're excited about doing in a practical way," Anderson said.
Since the channel was established, Clam Chowder has featured a musician and songwriter, a speech and debate competitor, a puppeteer and a film reviewer. The pair acknowledges they know many uniquely talented people. They also reach out through social media to invite others to be featured in their channel.
Roloson designed all of the animations featured in their videos and on social media, while Anderson wrote and produced their content.
"It is really cool to get to hear all these people's stories about how they got involved in what they're doing or how it's affected their lives," Roloson said.
Anderson and Roloson appreciate the opportunity to exercise their God-given talents in order to help others pursue their passions, using an illustration from last month's Missions Conference to explain their goal for Clam Chowder.
"It's kind of, in a really cheesy way, been our Kingdom burden for other artists who are trying to figure out how they can actually pursue what they love," Anderson said. "Just to give people the pride and the strength to say, 'I am an artist, and that's what I do.'"