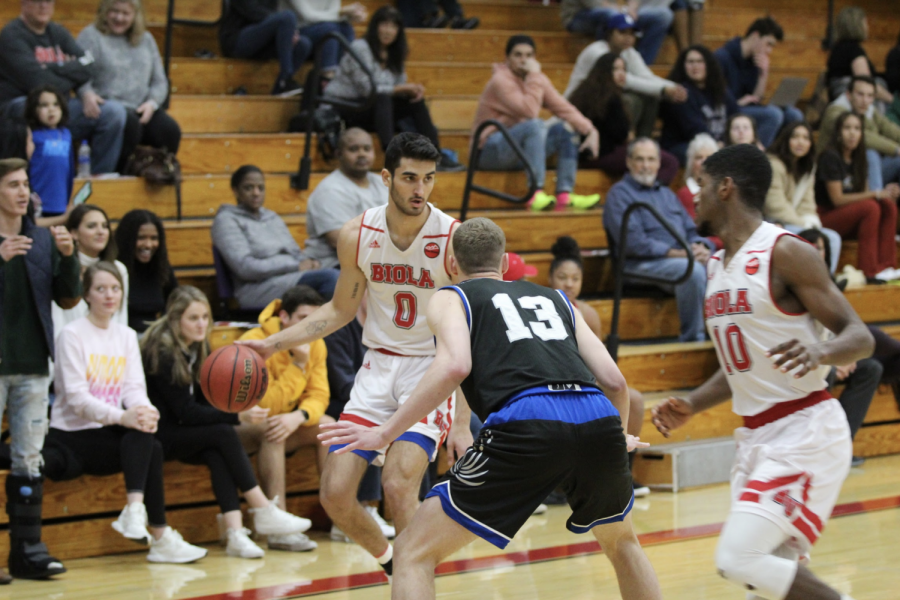 Photo by Aaron Zhang/ THE CHIMES
Men's basketball faced Chaminade University of Honolulu for a second time this season on Thursday at home. During the their first matchup, the Eagles lost 58-82 in Hawaii. This game was much closer, but Biola still took the loss, 84-78.
The Eagles started strong during the first seven minutes with a 20-7 lead. However, the Silverswords came back with a 25-8 run later in the first half. The closest the game got was 71-72 with around three minutes left on the clock.
Despite the tough loss, head coach Dave Holmquist was still enthusiastic about their performance.
"We did a lot of things very well tonight," Holmquist said. "We competed hard. Chaminade is a very good team. We just had too many turnovers and we fouled too much… We had good ball movement most of the night and our guys played hard. There was really good spirit and good energy."
PLAYER RESPONSE
Freshman guard Alex Wright scored 11 points during the game.
"I felt like we controlled the pace really well," Wright said. "We played the game that we wanted to play outside of the last three minutes."
However, he felt that there were aspects that could they have controlled better.
"Defensively, there were a couple mishaps," Wright said. "We let them get to the free-throw line a lot, so if we limited the fouls and put ourselves in position where we could have been successful, the game definitely would have been different. That could be done with less turnovers. I made a couple turnovers that were really costly."
Sophomore forward Michael Bagatourian was more satisfied with the competition.
"I think we competed pretty hard," Bagatourian said. "Everyone played with a lot of passion and with a lot of heart."
While Bagatourian was appreciative of his team's drive, there were things he also believed they could have done better.
"We have these lapses of a couple minutes where we let shooters open," Bagatourian said. "We let big guys get easy layups, send them to the line and they just go on runs. Now instead of being down two, we are down seven. Then we have to crawl back every couple minutes. I think we played hard the whole game and we played smart for 36 minutes. It is just the four minutes of mental lapses that we need to correct."
Bagatourian says that there are changes he wants to make before the next game.
"It has to be complete focus," Bagatourian said. "Before, during the walkthrough and the day of, during the time outs, half times and obviously during the game. We lose focus… It is all about focus with us. If we are focused and we are playing hard we can beat any team, but if we lose focus we can lose to any team."
The Eagles (13-12, 9-10 PacWest) are scheduled to face the Hawaii Pacific Sharks at home this Saturday at 7:30 p.m.