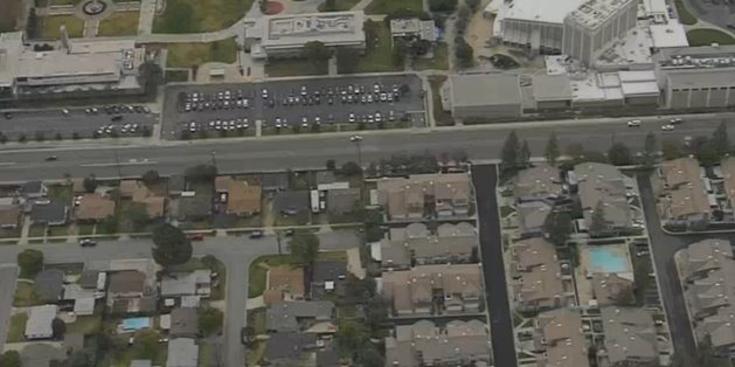 Courtesy of NBC Los Angeles
Updated Jan. 15 at 5:45 p.m.
Citrus College, a community college in Glendora, California, was placed on a lockdown Tuesday that was lifted at about 6 p.m.
The Citrus College lockdown has been lifted. Thank you for your patience. Refer to @CitrusCollege for information on classes.
— GlendoraPD (@Glendora_PD) January 16, 2019
The school's official Twitter account urged those on campus to stay indoors. Local authorities were searching the area after a phone threat to the campus was made, according to CBS Los Angeles. The commuter school sits roughly 17 miles north of Biola.
Citrus Alert: on 1/15/18 an order has been issued to lock down Citrus College. If you are not on campus, stay away. Go to the nearest room, turn off lights, lock door, and remain quiet. Remain locked down until an All Clear has been issued.
— Citrus College (@CitrusCollege) January 15, 2019
One individual was detained at Citrus College, according to the Glendora Police Twitter.
We have one person detained at Citrus College. The campus is still on lock down, asking the public to continue to stay away from campus.
— GlendoraPD (@Glendora_PD) January 15, 2019
Citrus's campus is adjacent to Azusa Pacific University. APU went on lockdown roughly one hour after Citrus did, telling those on its campus to "shelter-in-place." Azusa Pacfic University announced on its Twitter at 4:01 p.m. that it was lifting its lockdown.
UPDATE: Lockdown lifted on APU's campus. You no longer need to shelter in place. Though police activity continues at Citrus College, the all clear has been given for APU. Thank you for your patience, cooperation, and understanding to help keep our community safe.
— AzusaPacific (@azusapacific) January 16, 2019
APU said in a statement that the Glendora Police Department was "actively investigating the threat of a shooting" towards Citrus. GPD officers are "methodically searching the [Citrus] campus" and no evacuations had been ordered, a police spokesperson told the Los Angeles Times.
A bomb squad from the Los Angeles Sheriff's Department was seen entering Citrus's campus, according to video tweeted out from the Citrus College Clarion.
Bomb Squad sighted arriving at Citrus. We are still investigating and will keep everyone updated. pic.twitter.com/X1CpLEXd7s
— CitrusCollegeClarion (@CCClarion) January 15, 2019
Christian Leonard contributed to this report.
Editor's note: A tweet from the Chimes' Twitter account claimed there were unconfirmed reports of an active shooter on the Citrus College campus. Those reports are false, according to multiple news agencies. We apologize for any confusion our tweet may have caused.