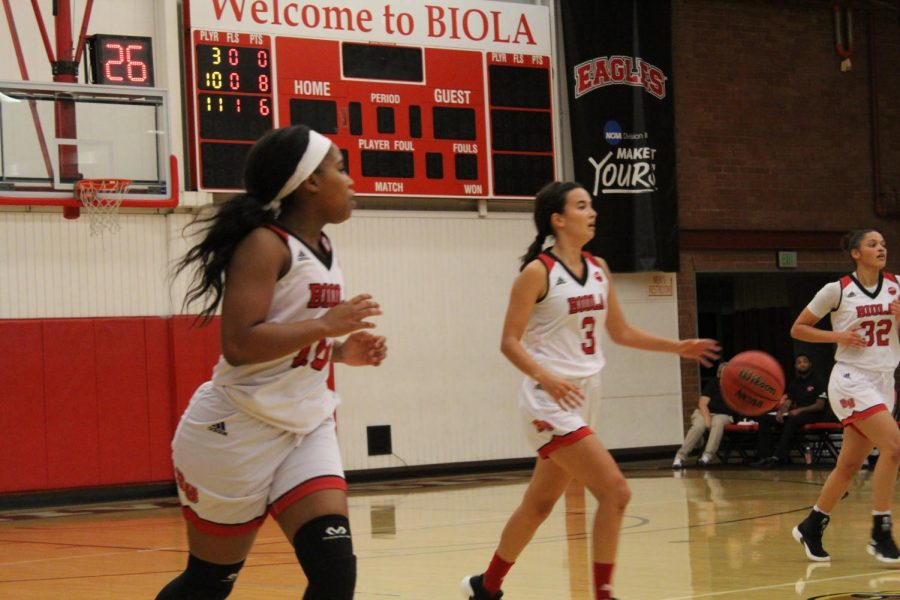 Women's basketball grabbed their second PacWest conference win in their first two games against the Holy Names University Hawks on Saturday. The Eagles took an early lead and held until the end, blowing out the Hawks by a final score of 82-53.
The match took off quickly as the Eagles built a 12-0 lead until the Hawks finally scored with 6:38 left in the first quarter. The Eagles had 13 turnovers, but still led after the first quarter by a score of 26-12. In the second quarter the Eagles continued their rim-attacking strategy by scoring 12 points in the paint to move the score to 47-30.
After halftime, each Eagle contributed to the score, including 13 points off bench. At the buzzer, junior forward Mikayla Greens hit a three-point shot, which moved the score to 66-46. In the fourth quarter, the Eagles limited the Hawks to only seven points. Biola continued to widen its lead to earn a final score of 82-53.
Greens recorded her highest number of rebounds of the season by 14. She also scored 14 points.
"It was definitely a team effort. Our focus was the small details this game, just really focusing on what we needed to fix, especially with our press defense," Greens said. "We forced a lot of turnovers with our press which is I think what gave us the energy to win."
The game marked the Eagles' second of scoring over 80 points. The Eagles also recorded 30 field goals, 35 points from the bench and 24 assists throughout the game. Freshman guard Aysia Johnson recorded five assists and junior guard Tatum Brimley grabbed three steals. Freshman guard Danita Estorga also scored 14 points.
"It was exciting to see us play hard and smart and together for two games in a row," head coach Alan Nakamura said. "It was encouraging to see the team getting more cohesive and… flowing together, working together better, everyday at practice and every game."
The win moved the Eagles to 2-0 in conference and 4-4 overall. They will continue play against Point Loma Nazarene University in San Diego, California on Dec. 5 at 5:30 p.m.