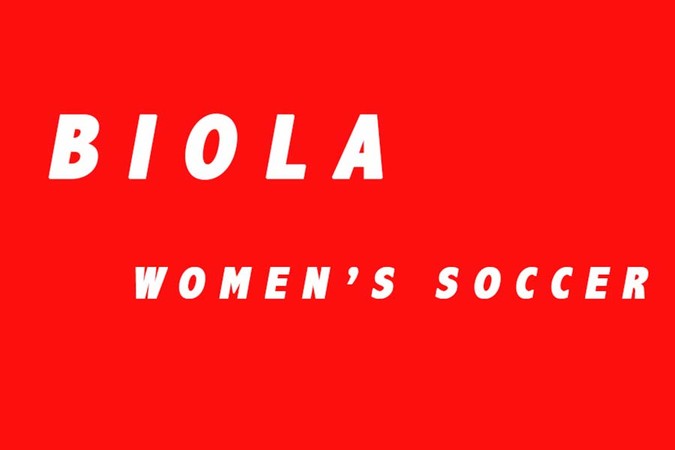 Freshman forward Sierra Rangel converted a late penalty kick, freshman goalkeeper Vivianna Poli made nine saves, and junior forward Paula-Marie Labate added a first-half goal to give Biola women's soccer a 2-1 win at Notre Dame de Namur University on Saturday. The Eagles remain undefeated in PacWest play on the season.
Poli recorded six saves in the second half, keeping the Argonauts off the scoreboard until the 87th minute. Even then, the freshman came in clutch when it mattered most, notching two key saves over the final two minutes of regulation as NDNU tried frantically to even the score and send the game into overtime.
IT TAKES TWO
Junior forward Sarah Jeffries won a scuffle in the box and passed the ball to Labate, who nudged a shot past the Argonauts' goalie in the 43rd minute to give the Eagles a 1-0 lead. The score marked Labate's 10th goal of her Biola career and first of 2018. That score remained until halftime as Poli and the Eagles defense kept NDNU away from the back of the goal for the first 45 minutes.
The Eagles dominated possession early in the second half, but some Argonauts defensive stands and a yellow card on junior forward AnnMarie Alvarez helped keep Biola's lead at one. That changed in the 64th minute, when an NDNU yellow card in their own box proved costly for the home team.
Rangel took the ensuing penalty kick and buried what would become a massively important goal. It was her first score as an Eagle.
Biola moved to 4-3-2 on the season and 2-0 in conference. After men's soccer lost earlier Saturday, head coach Erin Brunelle's team is now the only Biola fall sport that has not yet lost in PacWest play. The Eagles get a week off before returning to Al Barbour field for their first home conference game on Oct. 6 against Concordia University Irvine at 7 p.m.