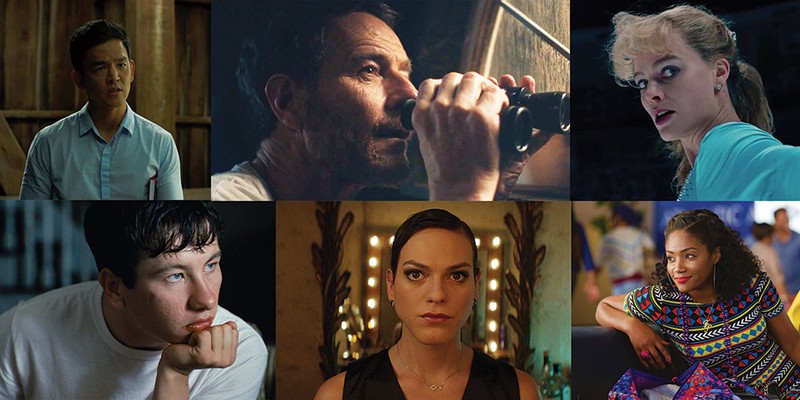 Photo Illustration by Caleb Raney/THE CHIMES
MARGOT ROBBIE — "I, TONYA"
With 27-year-old Australian actress Margot Robbie, viewers may very well have witnessed an acting phenom burgeoning into a transcendent talent right before their very eyes. While many like to poke fun at the mess of a film that was "Suicide Squad," Robbie's portrayal of Harley Quinn stood above all criticism. Keeping this in mind, Robbie translates some of the lunacy of Joker's lover and converts it eloquently into her performance of the notorious, one-time ice-skating superstar, Tonya Harding. Nevertheless, there exists an indwelling sadness to the overwhelmingly hated image of Harding. We get to see exactly what birthed the emotional fragility of Harding with "I, Tonya"
BRYAN CRANSTON — "WAKEFIELD"
Bryan Cranston's performance as a petty, resentful, bitter man named Howard Wakefield flew under the radar in 2017, which may sound puzzling to some given Cranston's household name. Needless to say, Cranston's best full-featured performance of his career acts as a clever satire on familial masculinity and as a gentle probing of existential malaise. I found Cranston's performance as surprisingly powerful and in the end quite moving.
JOHN CHO — "COLUMBUS"
Rendered with poignant psychological depth and humanity, John Cho's portrayal of a second-generation Korean man fighting the inevitable culture-clash, breathes existentialism and homesickness. This mood becomes magnified by his estranged, architect father's impending death. Riffing off the magnificent performance of Haley Lu Richardson, Cho proves affecting and radiant but true to life.
BARRY KEOGHAN — "THE KILLING OF A SACRED DEER"
It was a big 2017 for Barry Keoghan, aside from starring in Christopher Nolan's "Dunkirk," he breathed psychotic youthfulness into the indescribably disturbing "The Killing of a Sacred Deer." Considering the understated absurdity that defines Yorgos Lanthimos' work, it is only appropriate to have Keoghan's diabolical teenager named Martin at the forefront of it all. When Martin's sickening and divine tendencies of revenge unfold, the mystery that envelopes Martin leaves room for tragedy in the end. With all of this to say, Keoghan's star is on the rise.
TIFFANY HADDISH — "GIRLS TRIP"
When someone as influential to the art of cinema as Paul Thomas Andersonpublicly passes along a message calling you his "hero" and expresses the desire to collaborate on a film, you know that actress in question possesses real talent. Moreover, Tiffany Haddish's performance in "Girls Trip" simply speaks for itself. She undoubtedly proves one of the breakout stars of 2017, a natural-born performer and an eliciter of uncontrollable laughter. Haddish definitely lays down the humor in the criminally underrated "Girls Trip."
DANIELA VEGA — "A FANTASTIC WOMAN"
28-year-old transgender Chilean actress Daniela Vega remains a trailblazing talent. Defined by love, grief and other people's cruel hostilities towards Vega's Marina Vidal, the aggression and malevolence Marina endures in "A Fantastic Woman" prove pervasive and beyond disheartening. Equally devastating with a personal expression of pain, viewers encounter Marina just before what most would consider one of the most difficult things to ever experience, and of course, the obstacle increases for her because of well—other people. With all of this in mind, Vega proves marvelous. Vega not only moves audiences with her performance of a woman's struggle to proclaim dignity and remain resilient in the face of an unempathetic and inhumane world, but also a remarkable, subtle and challenged portrait of grief. Vega's performance in "A Fantastic Woman" will stand the test of time as one of the greatest acting performances of recent memory. Unfortunately, because the film was so underseen, awards will elude her valiant effort. Nevertheless, Vega's performance will ignite in the hearts of many.