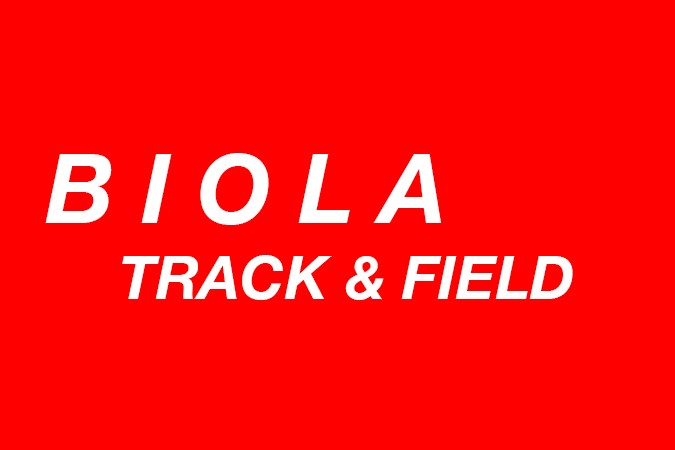 Illustration by Chak Hee Lo / THE CHIMES
Track and field athletes travelled to Azusa, Calif. for the Bryan Clay Invitational at Azusa Pacific University from April 19-20 on a busy weekend for Biola Track and Field. The distance runners took center stage on day one, while Eagles athletes set nine personal records on the second day. The goal for all Biola participants was to meet requirements to make the National Christian College Athletic Association outdoor championship meet on May 10-11.
DAY ONE DISTANCE
The first day of the meet consisted of only four events: the men's and women's 3,000-meter steeplechase and the men's and women's 5,000-meter run. The latter races had a combined 17 heats, with races starting at 2:30 p.m. and the last run starting at 10:40 p.m.
The highlight of the day came in the 5,000-meter races, where freshman Ryan St. Pierre set a new personal best in the men's race at 14:54, but fell nine seconds short of qualifying for NCCAA. Junior Jessica Cody also set a new personal best in the same event on the women's side with her time of 17:52.
NINE PERSONAL BESTS ON DAY TWO
Eagles runners got off to a fast start on the second day when freshman Heidi Sowers set a new personal best time in the women's 100-meter hurdles at 15.68. Sophomore Noah Strenn quickly followed up by setting his own best in the 400-meter dash with a time of 52.42.
Sophomore Shannon Howell continued the trend of personal records with one of her own in the 800-meter race with a time of 2:23.73, but freshman Kaitlyn Natividad finished highest for the Eagles at 115th in a field of almost 150.
Eagles runners secured two more bests in the women's 400-meter dash, as freshman Amelia DeYoung finished in 1:07.47, two seconds better than her previous high. Sowers finished less than a second later at 1:08.13 to set her own personal record. Sophomore Carissa Kalpakjian clocked in at 25.82 to finally break her personal best in the 200-meter dash after she came close multiple times throughout the season.
The final event of the day saw the Eagles grab three more personal bests. In a field of over 300 runners, seniors Stephanie Croy and Hannah Hunsaker broke their records in the women's 1,500-meter race, with times of 4:41.60 and 4:47.44 respectively. Natividad came in less than ten seconds behind both runners at 4:50.50 to set the final personal record of the day for Eagles runners.
The end of the weekend marks the final meets of the Eagles' regular season, and the team will now look forward to the PacWest Conference Championships on April 27-28.