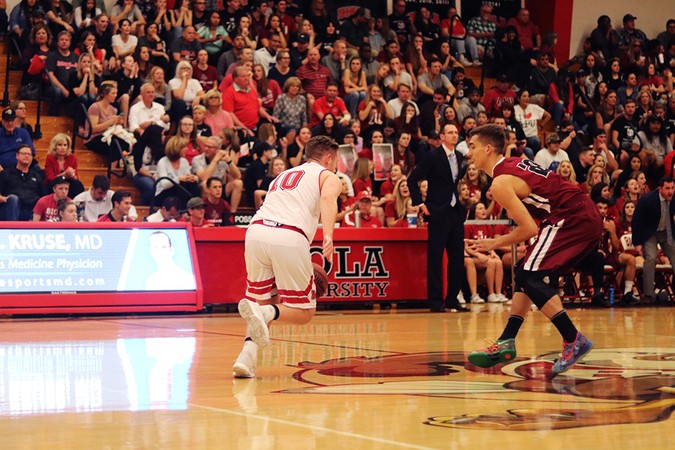 Thecla Li / THE CHIMES
Before two crucial basketball matchups last month, Biola had pulled ahead of their archrivals Azusa Pacific University to a 40-20 lead in the Cornerstone Cup standings. After splitting the Feb. 3 basketball matchups, the Eagles held their lead, but the Cougars have dominated since to pull ahead to a 60-45 lead with only 25 available points left.
APU TAKES CONTROL
The Eagles were sitting in the driver's seat by a 20-point margin after their dramatic and stunning triumph in the Feb. 3 men's basketball game, when senior guard Blake Shannon Jr. hit a game-winning three-pointer in the final seconds against APU. Since that match, Biola has struggled to pose a challenge to APU's teams. Despite breaking many school records at the Pacific Collegiate Swim and Dive Conference championship meet, the Eagles could not keep up with the Cougars as APU grabbed 10 more points by finishing ahead of Biola in the women's team leaderboards.
The schools faced off in a non-conference baseball contest on Feb. 7 that served as a tiebreaker for the season series. After seven innings, the Eagles led 4-1, but Biola's relief pitching gave up six runs in the final two frames and APU won 7-6.
Both season series in men's and women's tennis went to the Cougars as they handled the Eagles with ease to add 20 more points. APU swept on both sides in their matchup on Feb. 19 at Biola and did so again in the men's match on March 23 at APU. A surprising sweep in a softball doubleheader on March 16 earned the Cougars at least five more points, further extending their lead and adding to the Eagles' recent struggles against their rivals.
WHAT COMPETITIONS ARE LEFT
The winner of the Cornerstone Cup will be decided in one crucial weekend next month when softball, baseball and track and field contests between the schools take place on April 26-28. In baseball, the Eagles will take on the current NCAA Division II unanimous number one ranked Cougars in a four-game series that will take place at Eagles Diamond, culminating with a doubleheader on April 28. The Eagles would need to win three of the series' four games to secure 10 points because of APU's victory on Feb. 7.
Softball will seek revenge on Azusa as they face off at Freedom Field with another five points on the line in a doubleheader on April 27. Biola will need to win both games, because if the games are split, the overall season series record would swing APU's way and give the Cougars all 10 points.
Last but not least, the final 10 points up for grabs will go to the track and field team with the highest overall finish at the PacWest Conference Championships in Fresno, Calif. on April 27-28.