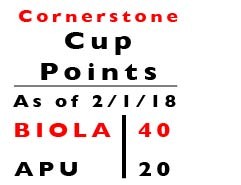 As competition for the first-ever Cornerstone Cup continues, the Eagles currently lead Azusa Pacific University by a score of 40-30 points. For team sports like basketball and soccer, the school that wins the season series gets 10 Cornerstone Cup points. If they split the series, which happened in volleyball, each school receives five points. For sports like swim and track, whoever places higher in the conference meet between the two schools gets all 10 points.
The scoring began with APU snatching a 3-2 win in volleyball on their campus on Sept. 22. Women's soccer drew a 1-1 tie on Oct. 4, giving each team five points. That same evening, the Eagles beat APU in men's soccer for Biola's first Cornerstone Cup victory, awarding them their first 10 points. Volleyball rematched against APU at Biola and won 3-0 on Oct. 7, bringing the score to 20 points for Biola and 10 for APU.
Biola's men's and women's cross country teams finished in higher positions than APU in the PacWest championship meet on Oct. 21, giving the Eagles 20 more points. The 40-10 score remained until APU defeated the Eagles in men's and women's basketball on Jan. 6, narrowing the deficit to 40-20.
This sets up an exciting showdown next weekend, where APU could sweep in basketball and narrow Biola's lead further or the Eagles could get one step closer to the Cup. The games will be held at Chase Gymnasium on Feb. 3, with women's basketball playing at 5:30 p.m. and men's at 7:30 p.m.