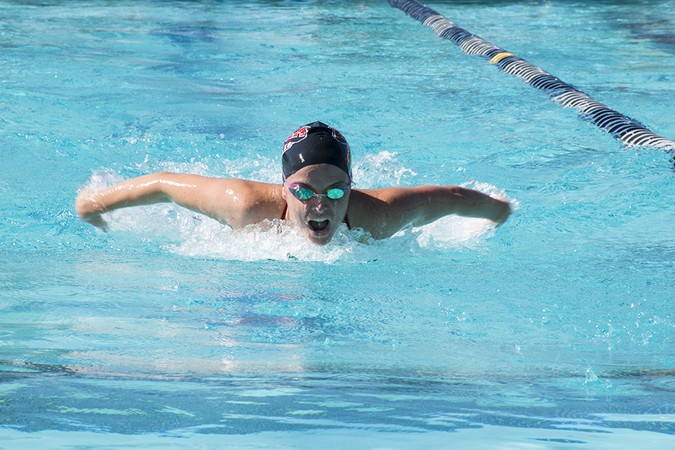 Chak Hee Lo/THE CHIMES [file]
Men's and women's swim and dive competed in their first four dual meet of 2018 against Chapman University, University of La Verne and Mills Collegeon Jan. 12. The men's team placed third over ULV and the women's team finished first in nine of the 11 events. The meet also provided a good chance to earn faster times after the Eagles' loss against Whittier College on Dec. 9.
SEVEN-WIN STREAK
The women's victory streak of seven started with the 400-yard medley relay. Sophomore Bethany Harper, senior Lisa Tixier, sophomore Rachel Stinchcomb and sophomore Emily Silzel combined to finish 12 seconds ahead of Chapman and finished with a time of 4:06.29.
After the first win, the Eagles continued to rack up victories. Tixier took first in the 1000-yard freestyle, finishing 24 seconds ahead of a swimmer from Chapman with a time of 11:02.28. Tixier also finished first in the 50-yard freestyle with a time of 25.13 and the 200-yard butterfly with a time of 2:10.87. Silzel completed three of her individual events in first, including the 200-yard freestyle with a 1:58.29 time, the 200-yard breastroke with a 2:32.16 time and the 100-yard freestyle with a time of 54.48. Stinchcomb finished first in the 200-yard individual medley with a time of 2:16.33. The women finished the meet with a final win in the 400-yard freestyle relay with a 3:42.63 time.
MEN SWEEP EVENTS
The men's team finished with 10 top three finishes in the meet. Sophomore Raymond Kam contributed by winning in the 200-yard butterfly with a time of 2:04.77 and the 200-yard breaststroke with a time of 2:20. Freshman Andrew Holmes took third in the 200-yard freestyle in 1:57.88 and finished first in the 200 yard butterfly with a 2:10.10 time. In the 100-yard freestyle, senior Tom Franicevich finished in second with a time of 49.20.
The Eagles will host their next meet at the Splash! Aquatic Center against Azusa Pacific University, Concordia University, California State University East Bay and Soka University of America on Jan. 20 at 10 a.m.