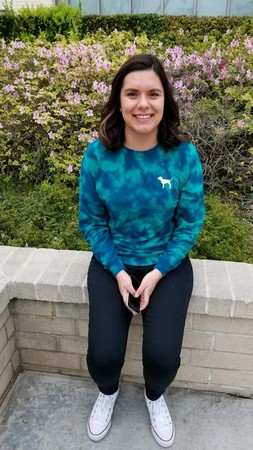 Julianna Hernandez / THE CHIMES
Q: WHAT IS YOUR NAME, YEAR AND MAJOR?
A: Briana Valdez, sophomore elementary education major
Q: HOW WOULD DESCRIBE YOURSELF IN THREE WORDS?
A:  Passionate, Hard-working, Motivated
Q: WHAT ARE YOU PASSIONATE ABOUT? WHAT DO YOU LOVE DOING?
A: "I love working with students. I work with high school students currently, but I love working with elementary age students also. I love getting to interact with them and just getting to know them."
Q: WHEN AND HOW DID YOU START BECOMING PASSIONATE ABOUT IT?
A: "For high school at least, I started becoming passionate about that, probably my junior, senior year of high school. My youth group back home, my junior high and high school was combined. So there was a lot of age gaps in there, and I found myself being a mentor to some of the younger girls that were in seventh and eighth grade, so that's when that started.
"Then my junior year, I volunteered in a second grade classroom. That's when I got to see what teachers do, and I got to see how they get to interact with students and get to help them learn and grow and to teach them, and that's when I became passionate about that."
Q: HOW DOES YOUR PASSION MAKE YOU A BETTER PERSON?
A: "I think that God has gifted me with those passions to be able to interact with people from different age groups. And as a result of that, I'm able to bring glory to God by pursuing a career that allows me to use those gifts that I've been given to socialize with people and get to know them and encourage them. So I think being able to live out my faith and my passion in a way that's God honoring is what makes it good."
Q: WHAT WOULD YOU LIKE PEOPLE TO KNOW YOU FOR IN 10 YEARS?
A: "Probably, just knowing me as someone that really cares about people and their growth, and a person that's selfless and that really puts their whole in everything that they do. And that it reflects well in my future students. I can be someone that gives them hope and encouragement in their lives, and that's something they would be able to reflect back on when they're older and pursuing careers of their own."