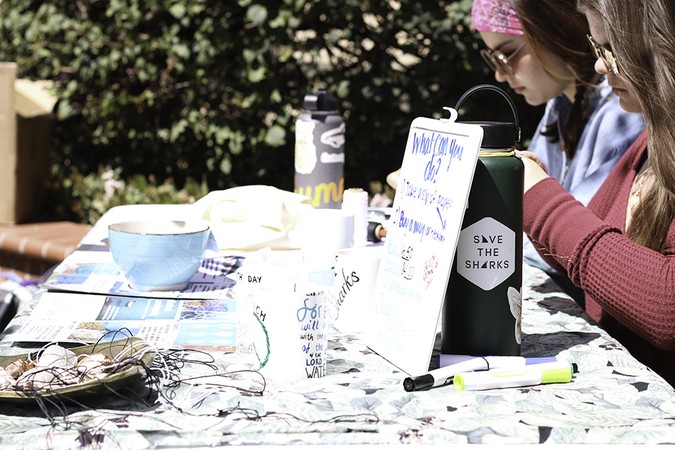 Rebecca Mitchell/THE CHIMES
Granola Girls. Tree Huggers. Biola Environmental Stewardship Team. The environmental club on campus has evolved to many forms, and on Tuesday they were outside the Caf to raise awareness about problems in the ocean.
At the table, several club members shared about coral bleaching, ocean pollution, overfishing and endangered marine animals, as well as sold mugs and stone and shell necklaces to sponsor shark preservation through the World Wildlife Fund. Club president and junior environmental science major Jessica Callen hopes to explain that sharks are not humans' enemies but remain important portions of the ecosystem.
PLASTIC IN THE OCEAN
"We want to specifically hone in on ocean problems because it's an environment that's so close to us and a lot of people at Biola go to the beaches and surf or scuba dive and are familiar with the oceans, and there's a ton of problems that are happening now and we want to address those," Callen said.
Callen believes Californians know about the Great Pacific Garbage Patch but do not realize that it is primarily made up of microscopic plastic, rather than whole pieces of plastic, which can eventually end up in humans' bodies through the consumption of fish.
"I grew up in Huntington Beach, so I live on the coast, so I get a first hand experience of seeing people litter and just use a lot of plastic and trash that they don't think affects the ocean as direct, but it really does even if it's indirectly affecting the ocean," said Lindsay Atkinson, club secretary and sophomore general biology major. "So I think it's important to just kind of raise awareness to the simple things that people don't understand can affect the ocean and just let them know what they can be doing in their everyday life to decrease that."
ENVIRONMENTAL DISCUSSION
While the BEST club focused on the ocean at their table outside the Caf, they meet every Wednesday to discuss other environmental issues such as creation care, animal extinction and food. With these discussions, club member and junior environmental science major LeLe Garcia hopes to continue raising awareness for students.
"This is God's garden, this is God's world and this is a gift to us and in no way… should we tear up that gift and ruin it in every way and then give it back to its owner," Callen said. "I think that what we should be doing is that we've been given this beautiful gift by God of his creation, and we should care for it and be living in it sustainably and enjoying it so that we can eventually give it back to God and be like, 'Hey look at this amazing gift that you gave us and look at how we enjoyed it and we loved it and we cared for it, and here it is.'"