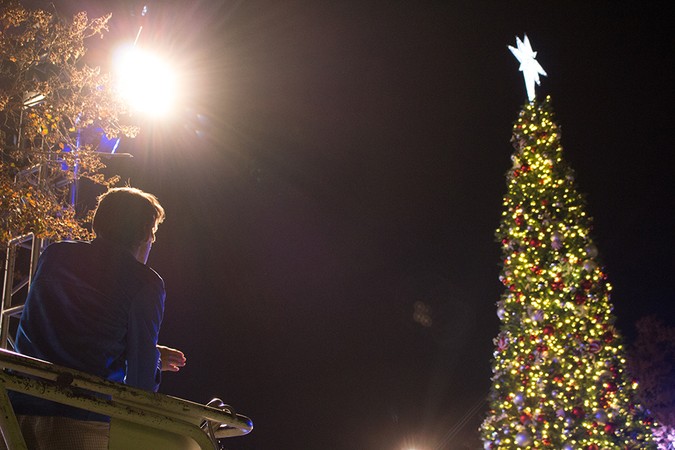 Christian Leonard/THE CHIMES
Students shone during the annual Christmas Tree Lighting with the option to purchase  battery-operated candles as the event's founder, senior director of advancement Rick Bee, led the ceremony on Wednesday.
MAKING CHANGES
The main event of the night happened during the lighting of the Christmas tree. Rick, who founded Biola's Christmas Tree Lighting over 30 years ago, and his wife Julie lit the tree.
"You can tell that a lot of work went into the lighting this year," said Lauren Lazatin, junior elementary education major. "I hadn't been in a few years so to see everything come together so wonderfully—I'm convinced the ceremony gets better every year."
After the tree illuminated and the students enjoyed their complimentary candy canes, the developmental team behind the Tree Lighting Ceremony had time to reflect on what went right. Some topics the team discussed included organization of seating and participant's willingness to purchase candles for $1.
"This year we used electronic candles which is different from our usual wax candles," said Nicholas Carreno, student chairman of the Biola Alumni Association's tree lighting committee. "I think a lot of people forgot to pick up their candles because we ended up with a lot left over."
But it was not just candles that changed. Students and faculty working the event listened to student comments about last year's ceremony.
"We made the tree lighting buttons a little bit bigger," Carreno said. "We heard a lot of the students complaints about last year's buttons being really small so I made sure to fix that for them."
GATHERING THE COMMUNITY
Students, parents and faculty gathered on Metzger Lawn to celebrate the season of Christmas.
"It's such a blessing to be apart of such a long lasting tradition at Biola," said junior biochemistry major, Kaelyn Braun."The tree looked so beautiful."
The night started with the band leading the crowd of students in Christmas carols. After this, President Barry Corey took the stage to read Scripture and introduce Biola into the Christmas season. During his speech, Corey placed an emphasis on gratitude and thankfulness during the season of giving. Corey took this time to announce the total donations Biola saw for their Giving Tuesday event. Corey annouced the total of $252,000, all going back to offset student expenses.
The night continued with Christmas hymns and more reading of Scripture. Students, faculty and alumni shared the story of Christ's birth on stage between songs. After the reading of the passage, the speaker dove deeper into topics like generosity and gratitude in the Biola community.
SNOW FALLS
Once the honorary guests spoke, Metzger Lawn's lights dimmed and the tree lit up in sparkling white lights from top to bottom.
Following tradition, fake snow began to fall from the tops of building and lamp posts, giving the students below the real feeling of Christmas.