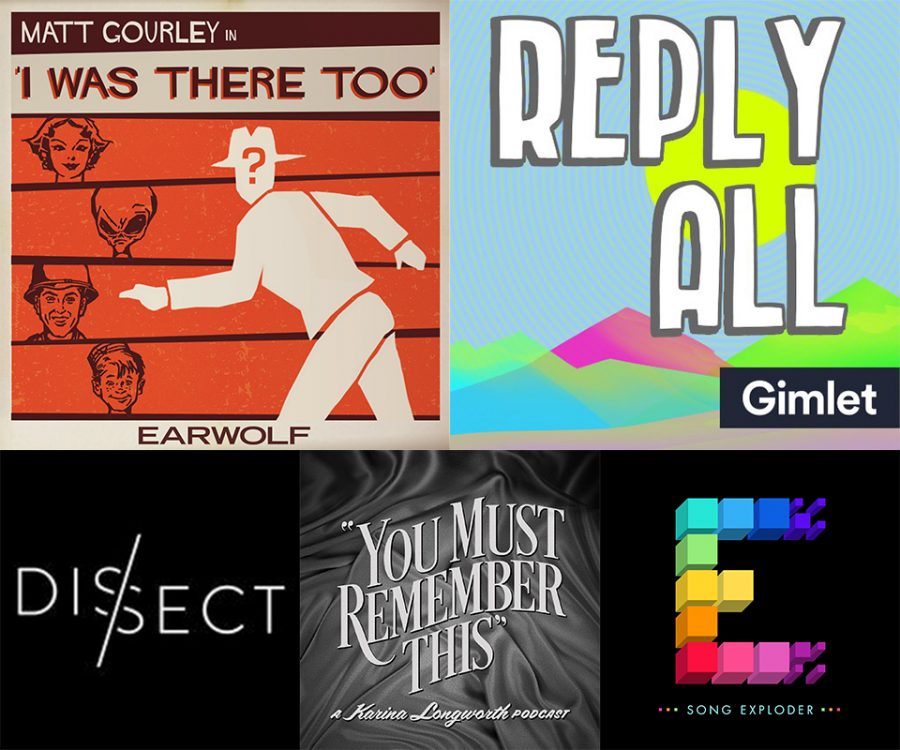 "Song Exploder": any musician simply must listen to this unorthodox podcast about music. Created by Hrishikesh Hirway, "Song Exploder" picks widely known pop-songs and performs an in-depth examination of the structure of the song. Hirway not only shows how the artists conceived the tune, beat and lyrics, but he also documents the process of how the artists realize those components and turn them into a hot track. "Song Exploder" provides fascinating insight into the innerworking of popular songs that most people never consider. Somes of these songs include "Ophelia" by The Lumineers, "Sober" by Lorde, and songs from movie soundtracks such as "Arrival" and "La La Land." The quality that makes this podcast stand out above the rest is that Hirway interviews the artists themselves. He makes sure that listeners learn about the structure of the song from the people who actually crafted it—a remarkable feat in itself.
"Dissect": this podcast might not be for everyone, but it still deserves consideration. Similar to "Song Exploder," "Dissect" falls into the musical podcast genre. However, it focuses explicitly on rap music. The podcast spends a little less time on the musical structure of the songs with the intent of devoting its attention to the lyrics the artist presents. "Dissect" works on a season format, with the first season focusing on Kendrick Lamar's "To Pimp a Butterfly" and the second season concentrating on Kanye West's "My Beautiful Dark Twisted Fantasy." Christians tend to shy away from rap music and condemn the musicians who create it. That may be justified, but it makes this podcast worth listening to because it examines the lyrics of these controversial songs and finds the meaning in them. It uses an astonishing amount of research to capture the message the artist is trying to convey in each of their songs.
"You Must Remember This": created by Karina Longworth, this podcast tells the stories of Hollywood's legends, tragedies and all around intriguing stories about iconic actors and showmen from the early days of show business. For anyone who has a passion for both history and cinema, this podcast fuses both of them by doing an in-depth analysis on people like Marlon Brando, John Wayne and Orson Welles. "You Must Remember This" works on a season based format with each season focusing on a captivating period of Hollywood's history. For example, one of the early seasons is called "Star Wars" which highlights feuds between famous actors and public figures. Other seasons include "Charles Manson's Hollywood" and "The Blacklist," which focuses on America's second red scare and the role that Hollywood played in it.
"Reply All": this enjoyable podcast tells stories of everyday life and how technology and the internet play a part in it. Created by Gimlet Media, this podcast finds people who have an interesting technological story to tell. Their 104th episode, "The Case of the Phantom Caller," tells the story of a woman in New Jersey who begins to get enigmatic phone calls at her office. Each phone call brings mysterious sounds, such as a basketball game, a storm siren and a child talking to his mom. The story begins to unravel as the show hosts dig deeper and deeper into the mystery. "Reply All" tells amazing and engaging stories that cover a wide variety of topics and make for a worthwhile podcast.
"I Was There Too": created by Matt Gourley, this podcast focuses on pop-culture television and film. It takes a look at all kinds of different films with a special twist. Gourley actually talks with people who took part in a famous movie. He does not interview the A-list actors most people think of, rather he invites people who played more of a minor role in the project to appear on the show and tell their story. For example, Tom Wilson, who played Biff Tannen in the cult-classic "Back to the Future," appears on the show and tells Gourley about the process of making that film as well as how it affected his career. This podcast tells stories about famous movies from a unique and often unheard perspective.