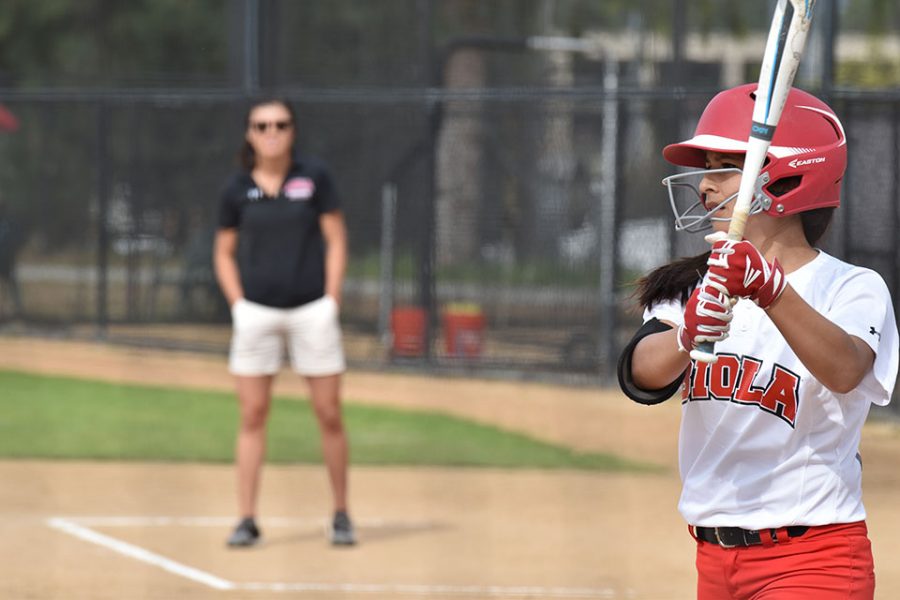 This week for Biola's softball team signaled the end of their 12-game homestand at Freedom Field. The Eagles played doubleheaders on March 10 against the William Jessup University Warriors and on March 11 against the Menlo College Oaks. Biola split each of the series, but had plenty of positive factors to build on, especially their offensive output and pitching staffs.
a rough start
The first game of the weekend started out rough for the Eagles, as they gave up seven runs in the first inning alone against William Jessup. Senior pitcher Kimmy Triolo gave up the first three before getting replaced by sophomore pitcher Kaile Chavez, who accounted for the remaining four.
Through the remainder of the game, Chavez only allowed two more hits, but the Eagles' batters could not overcome the Warrior's pitching. The only run came off the bat of junior left fielder Anjie Amezquita, who homered to left field, her first of the season. Biola could not summon any more offense and lost 7-1.
The second game ended 1-0 in Biola's favor, as the pitching team of junior Terri Van Dagens and freshman Paula Damas held Jessup scoreless with only four hits. Junior third baseman Selina Sherlin scored the lone run of the game in the fifth inning, crossing home plate after a base-loaded walk.
Chavez took the mound first for Biola in their first game against Menlo and earned her first loss of the season after giving up three of the five runs the Oaks eventually scored. Menlo went up 5-2 in the top of the sixth and withstood the two-run Biola comeback in the bottom of the seventh inning to escape with the game one win.
Neff's walk-off
Game two proved the most exciting of the weekend, as Biola took an 8-7 lead after only two innings. The Oaks tied the game in the top of the seventh, forcing extra innings. In the bottom of the eighth, freshman catcher Kayla Neff brought home sophomore shortstop Andi Hormel with a walk-off single to give Biola the 9-8 victory.
Chavez redeemed herself for the previous game by pitching the final inning-and-two-thirds, dispatching six Menlo batters in quick succession to push her overall record on the mound to 5-1. Chavez has a season ERA of 1.76, which puts her at second place in the Golden State Athletic Conference standings, trailing only the 1.11 ERA from Vanguard University's Courtney Thornhill.
After this week of play, the Eagles earned third place in the GSAC as they moved to a 5-5 conference record and 16-9-2 overall. Biola next plays on March 21 when they will travel to El Cajon, Calif. to face the San Diego Christian College Hawks at 1 p.m. and 3 p.m.