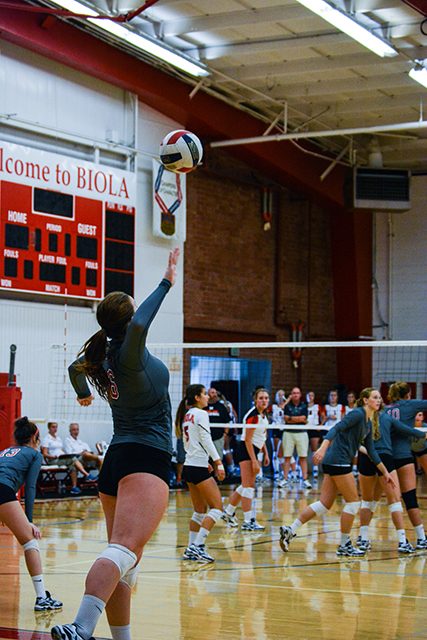 Fresh off a disappointing five-set loss to the Montana Tech Orediggers on Oct. 13, the Biola volleyball team faced the Arizona Christian University Firestorm on Oct. 14. The Eagles bounced back well, taking the match in four sets to improve their Golden State Athletic Conference record to 7-2 and overall record to 16-8.
Sets one, three and four proved near mirrors of each other, as Biola won them 25-15, 25-14 and 25-13, respectively. However, the second set featured what seemed like a different team. Whereas the other three sets had an average kill percentage of .410, the Eagles finished set two at a .025 kill percentage.
In the second set, they had 11 more swing attempts than the highest number of the other three sets, less kills than any of the other three, and committed twice as many errors as the highest of the other three. The set remained closer than it should have, as the Firestorm hit worse than Biola did, finishing with a negative .036 kill percent. The difference came through serving, as five Biola service errors gave ACU the 25-23 set win.
On the whole, Biola played more characteristically than the day before, particularly in the way they dealt with plays mentally.
"I think we got more in touch with the love for the game," said sophomore opposite Karly Dantuma. "I think just excitement for each other and the whole team aspect and really focusing on the girl next to you instead of yourself and I think that really helped."
Dantuma had 10 kills on the night in a relatively mild performance for her standards. Senior middle blocker Ally Forsberg had a great night from the middle, tallying 11 kills and only one error. Sophomore outside Hannah van Warmerdam had a return to form as well, finishing with 12 kills to lead all attackers.
Biola finishes up their three-game weekend homestand on Oct. 15 when they face the Hope International University Royals at 7 p.m.