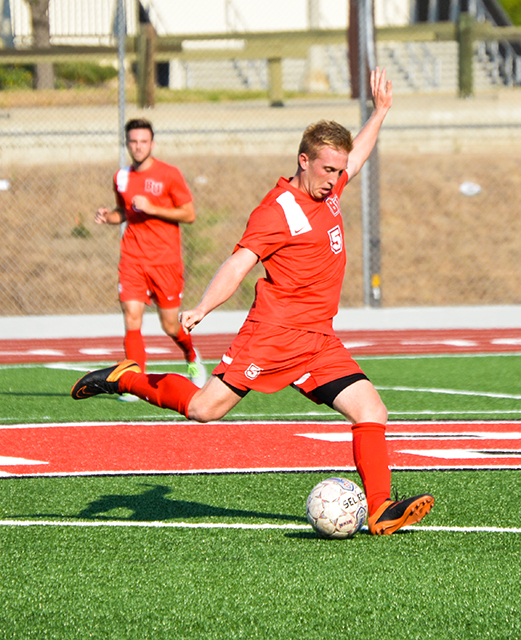 The Eagles have their backs against the wall as they stand in serious danger of not playing playoff soccer beyond the the Golden State Athletic Conference tournament with less than a month to go.
gut-wrenching double overtime
After a gut-wrenching double overtime loss to their GSAC counterparts, the San Diego Christian College Hawks, on Oct. 8, Biola has found themselves searching for an offensive spark for their upcoming four-game stretch to close out the regular season.
After what seemed like a glimmer of hope for the slumping offense on Oct. 4 in a 2-1 win over the Westmont Warriors, their insipid offense continued their old ways, failing to score in 110 minutes on Saturday. The offense concocted many scoring opportunities, but unlucky breaks and unfortunate shots kept a zero under the Eagles' name on the scoreboard.
The defense continued to dominate and have their way against a more paltry opponent like the Hawks. Yet, sometimes it only takes that one goal to win the game, just as the Eagles have done in overtime twice this season. Unfortunately, the Eagles found themselves on the losing end in over time this time around, giving up a game-winning goal to the Hawks off a phenomenal corner kick.
"Being able to score more goals would relieve some of the pressure that the defense faces," said Riley Waldeck, junior defender and forward. "Regardless, it is the defense's job to shut down the opposing team's attack. We have put great priority into not allowing the opponent to score at all so that we have the best chance to win on maybe one goal. "
In the game, the Eagles outshot the Hawks 19-9, but the Hawks stood furiously when it mattered most and took advantage on one of four shots only ten minutes into the final overtime period.
The need for scoring
The Eagles need scoring immediately. The roster is oozing with scoring firepower across the board, headlined by senior forward Leonardo Contreras and senior midfielder Devin Leon.
"It comes down to each player recognizing that responsibility relies on the individual to contribute fully all he can to the team, no matter if that is scoring goals ourselves or making sure that the other team does not," Waldeck said. "The preparation to scoring more goals is there in practice and once outright desire to score and precise execution is displayed during competition, games are going to be even more fun and exciting to play in and spectate."
With the loss, the flightless Eagles are in trouble in the GSAC standings. Biola sits fourth overall and one point behind the Menlo College Oaks, three points behind the Warriors and three points behind the undefeated Hope International University Royals with four games to spare in the regular season. Biola travels to Fullerton for their most daunting task yet on Tuesday, Oct. 18 at 2 p.m. as they take on the division-leading Royals.