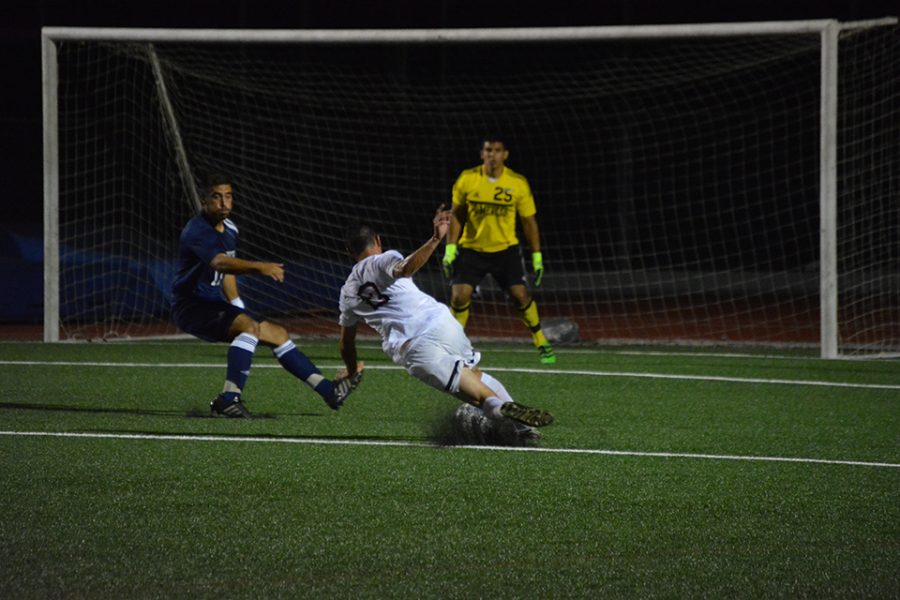 With 18 minutes remaining in the Sept. 17 matchup against the UC Merced Bobcats, senior midfielder Devin Leon scored a key goal to lift the Eagles to a 2-0 victory.
Leon en fuego
Leon's goal in the 82nd minute was his first of the year — breaking a personal scoreless streak that has extended all the way back to Oct. 31, 2015 in a 5-0 victory over the Arizona Christian University Firestorm.
"My first goal was long awaited," Leon said. "I have gotten a lot of unlucky shots ricocheted off the crossbar; it feels great to get back on the scoring board. Hopefully there will be many more where that came from."
On Sept. 20, the Eagles hosted Arizona Christian for their first Golden State Athletic Conference match of the year. 32 minutes into the game, Leon continued his scoring by kicking off the Eagles' 5-0 victory with his second goal of the season — and the first of his two goals on the night.
It seems Leon has an affinity for scoring when playing the Firestorm, as he has found the net three times in the last two games against the GSAC foe.
To go alongside Leon's two-goal performance, junior forward Keaton Kerr scored his second goal of the season in as many games on a penalty kick. Junior defender Sammy McKay also chipped in his first goal of the year. Senior forward Leonardo Contreras was back after being held out Saturday with an injury. In his return, Contreras contributed his third goal of the season to round out the Eagles' 5-0 victory.
Offensive barrage and defensive aggressiveness
Not to be overlooked by Tuesday night's offensive barrage, the Eagles' stingy defense has been on fire as of late, and the games on Saturday and Tuesday prove it.
"This defense has been great, 450 plus of continuous minutes without giving up a goal is phenomenal," said Leon. "The backline of Yuri [Cruz], Clay [Mohler], Riley [Waldeck], Parker [Setran], Sammy [McKay] have been awesome."
After 5-0 win on Sept. 20, the Eagles extended their streak of shutouts to six straight. The addition of Puglia has been a great find for the Eagles, as the combination of him and the stout back line should continue to give more fits to their opponent.
"[Puglia] has been a huge contributor for us since coming in for us as a transfer in the spring," said Leon. "We knew he was a big body and had trained extremely hard over the summer and was ready to come out to show his improvement, and he did, proving to be a brick wall in the net, in addition to a great quarterback communicating with our defense."
The Eagles put their 6-1 record and six straight shutout streak on the line against another GSAC opponent, the Menlo College Oaks, when they play on Saturday, Sept. 24 at 7 p.m.