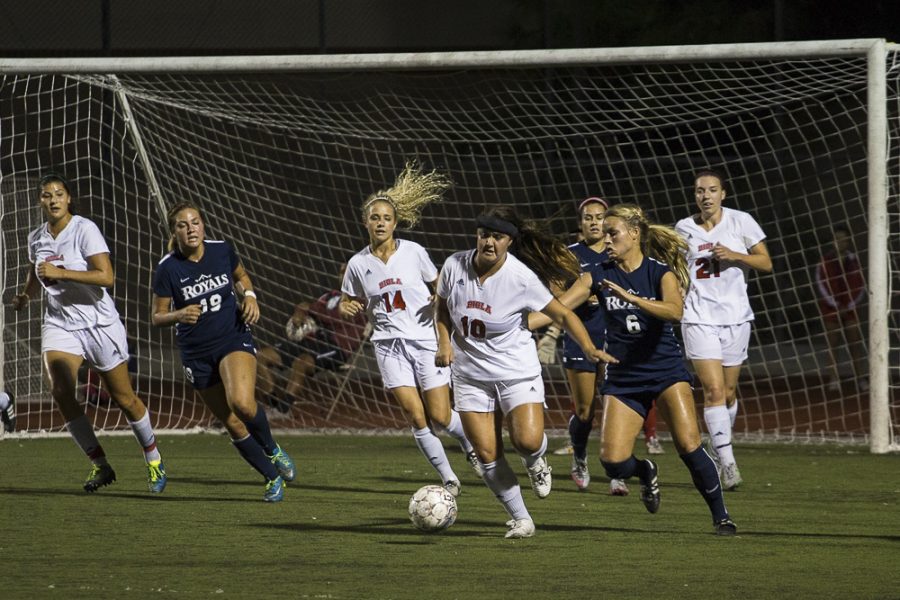 Marika Adamopoulos
Thirty-six minutes into the game, sophomore midfielder Brittni Coffeen obtained a pass from senior forward Brittney Sayre and sailed it into the left side of the Firestorm's net, resulting in her second goal of the year. Coffeen's goal was all the Eagles needed to defeat Arizona Christian University Saturday afternoon.
Biola came off their 1-0 victory over The Master's College on Oct. 24, needing a win against the Firestorm to secure a share of the Golden State Athletic Conference title with Westmont College.
Despite being equipped with dangerous scorers, Biola's offense has lacked its usual efficiency, by scoring only one goal in the previous two games against Vanguard and Master's College coming into Saturday's game.
This last regular game of the season was not any different for the Eagles' offense, however, Biola's defense held the Firestorm offense to only two shot attempts the entire game. This was the second game out of their their last four where Biola allowed less than five shots. Credit for this unforgiving defensive performance is due to sophomore defender Cat Newberry and the dominant junior defender Kayla White, who also scored the game-winning goal against Master's College on Oct. 24.
Biola finishes the season 13-2-3 and 7-1-2 in GSAC play. Westmont loses the tiebreaker that determined who got the number one seed for the Tournament due to a lower winning percentage than Biola, despite an equal conference record.
The next time the Eagles take the field will be Nov. 12 and 14 for the semifinals and finals of the GSAC Championship Tournament.