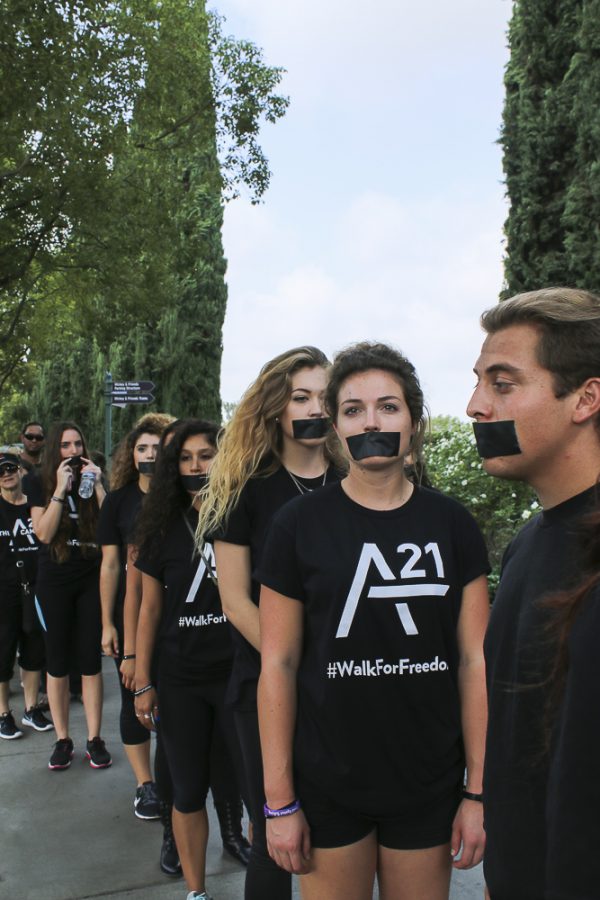 Marika Adamopoulos
Typically, the sidewalks of the Disneyland area are filled with families galore  — decked out in their Disney gear and heading to spend a day riding themed attractions. However, this past Saturday, Oct. 17, those streets were flooded with about a thousand people dressed in all black, their mouths covered with duct tape.
Raising Awareness
These people, including students from Biola's Do Something club, were walking to raise awareness on the issue of human trafficking in the Walk for Freedom.
"A21 is a huge organization for abolishing human trafficking, so since our club is all about social justice and standing up for those that don't have a voice this is a great way to spread awareness of that," said Lauren Garchow, senior sociology major and Do Something club.
A Spreading Campaign
A21 began eight years ago to fight against human trafficking one life at a time. As the campaign continues, the organization has spread to include walks in 25 countries, such as Germany and India, all on the same day.
"For this walk specifically in Southern California I love that it's in Downtown Disney, because I feel like in Downtown Disney … everyone's just doing their own thing, but having us all wear black and have tape over our mouths," Garchow said, " I feel like it's just the best way to cut into people's everyday lives and tell them they need to care about this problem too."
Literally Stopping Traffic
Walking around the Disneyland area drew eyes  and even stopped traffic with the help of police directing.
"I loved that we were literally stopping traffic so that we could bring awareness to this issue of human trafficking," Garchow said.
Along with A21's goal to bring awareness to the issue of human trafficking today, Do Something club members hoped to show their care about those being trafficked and trapped in slavery.
"I decided to do the walk because every victim and survivor of human trafficking deserves to be rescued and healed," said Taylor Stribbling,  SGA president and senior sociology and criminology major. "I wanted to play a part in spreading that awareness."
Reflecting on Slavery
Although the walk provided awareness, it also allowed for walkers to reflect on the issue of slavery and how people can reach out to the victims beyond the walk, like volunteering in rehabilitation centers.
"My main take away was that the walk itself did a great job of bringing a solemn time of reflection," said Giovanni Sera, senior communications major. "My second thought was in what way can I help make a difference in someone's life?"
Garchow worked to make a difference in victims' lives by volunteering with a rehabilitation home for sex trafficking victims in Michigan for the past two summers. At the home she spent time with the girls twice a week.
"I just have a lot of privilege in my life and just to know that there's girls and boys out there that have no freedom like at all, it just really makes me uncomfortable with all that I have and all that they don't have," Garchow said.
Something Bigger
Participating in an event such as the Walk for Freedom allowed students to be part of a movement bigger than themselves in the hopes that they were making an impact. In the future, Garchow sees the club participating in more human trafficking awareness events or even having a discussion on campus about the issue.
"For me not to do anything about it is disgusting to me, so I feel like I have to try to do something and the more that I get involved in combatting human trafficking," Garchow said, "Then at least I know I'm trying to make a difference."