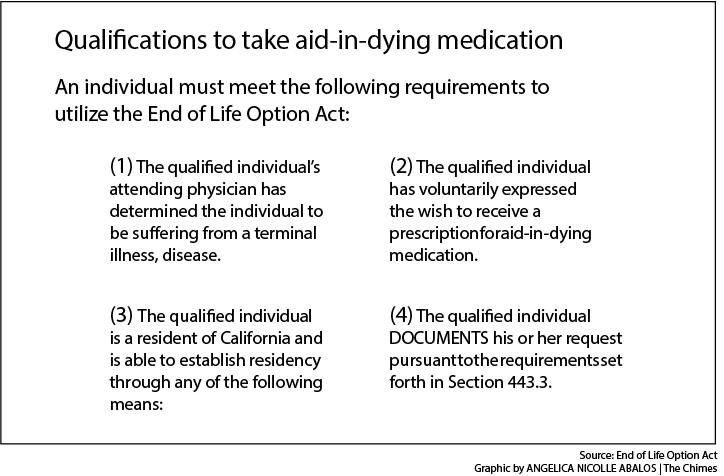 For terminally ill Californians, assisted suicide may be a legal option if the End of Life Option Act is passed in the state senate.
After the assisted suicide death of Brittany Maynard in November 2014, legislators have been pushing to make assisted suicide legal in more states. Coauthored by Senator Lois Wolk and senator William Monning, the End of Life Option Act would allow California physicians to prescribe lethal drugs to terminally ill patients to end their lives.
According to the bill, adults "who meets certain qualifications, and who has been determined by his or her attending physician to be suffering from a terminal disease, as defined, to make a request for medication prescribed pursuant to these provisions for the purpose of ending his or her life."
The bill has passed the Senate Health Committee and the Senate Judiciary Committee and is now headed to the Senate Appropriations Committee before going forward to the full Senate. Senator Monning said he believes it is a fundamental human right for the terminally ill to choose the quality of their final days, therefore creating the bill.  
"Californians with terminal diseases should have the autonomy to approach death on their own terms," said Monning.
Compassion and Choices, a nonprofit organization who provide free consultation, planning resources, referrals and guidance for the terminally ill, support the bill. Advocating for end of life options across the country, Compassion and Choices believe Californians should be granted this option for terminal illness.
"We should always provide quality end-of-life care for people who are suffering from an incurable and irreversible terminal illness. Yet, when a person only has months, weeks or even days to live, when there is nothing else that medicine can treat and it becomes impossible to provide relief from extreme pain, we should allow a person the option to end their pain and suffering when the time comes," said California communications director for Compassion and Choices Patricia A. González-Portillo.
Assisted suicide is legal in four states: Oregon, Washington, Montana, Vermont and a county in New Mexico. With a rise in the conversation, states such as New Jersey are beginning their own legislation on assisted suicide, with help from Compassion and Choices. However, this year in Connecticut, a physician assisted bill did not pass its Senate Judiciary Committee. A similar situation occurred in Maryland when leaders of two committees decided not to vote on the proposed aid-in-dying bill. States such as Colorado and Wyoming also rejected aid-in-dying bills this year.
Last semester, the Chimes published an article on a survey showing the majority of Biola students opposed assisted suicide. Californians Against Assisted Suicide oppose the bill and have supporters, such as physicians and members from the disability rights community, testify against the bill in front of the Senate Health Committee and the Senate Judiciary Committee. The coalition, which includes many organizations who oppose the bill, encourage their supporters to send letters to their legislators.
"This is a bill that has the potential to really do harm to a number of vulnerable people in our society, and that's why I think you see such a broad opposition to this legislation," said Tim Rosales, spokesman for Californians Against Assisted Suicide.