Small classroom caps affect students and faculty
As students are being turned away from needed classes, faculty find ways to solve class size limits.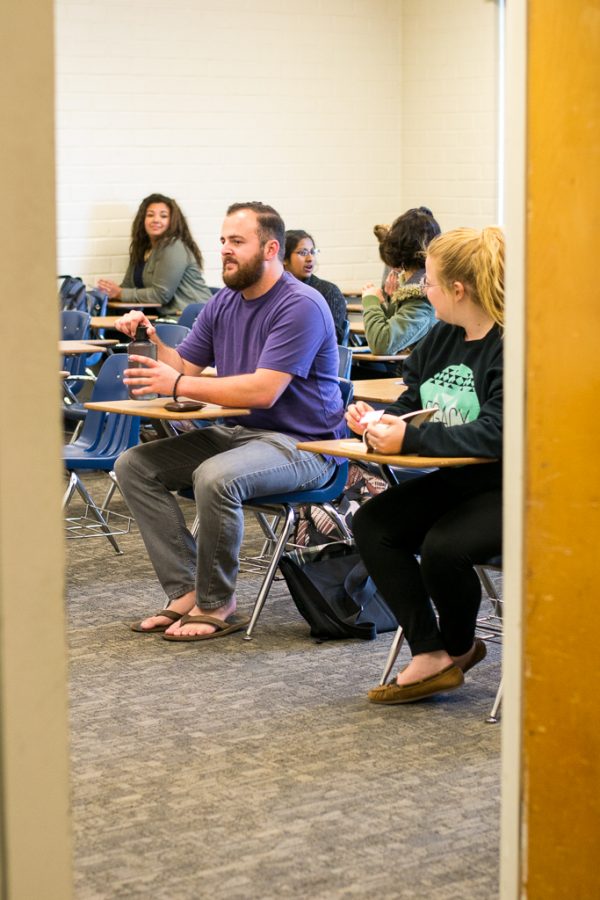 Annah Pritchett, Writer
April 2, 2014
Junior Kyle Relph sits among scattered classmates and several empty desks in his ASL class. Professors like Biblical studies professor Jeff Volkmer try not to turn students away, but because of the cap, it happens often and students are put on waiting lists. | Ashleigh Fox/THE CHIMES

As registration week rolls around, many students find themselves turned away from classes they highly desire or classes they need to graduate, because of low classroom caps.
STUDENTS BEING TURNED AWAY
"Class limits are determined by two things," said manager of student information systems Megan Newell, "the fire code or the professor."
Newell explained that fire codes determine the amount of people that can legally be in a room at a time, while professors choose their class sizes based on the educational needs of each particular class. These class limits thrust students and faculty into a juggling act of phone calls, add/drop forms, and waiting lists.
Department heads play a particularly pivotal role in managing the quality of small class sizes with the pressing need each student has to fulfill graduation requirements.
WAITING LISTS
This semester for fall registration, the English department has reverted back to a more personalized system by creating a waiting list that requires not only student names but other pertinent information such as expected graduation date and remaining credits needed.
"We want to be more careful and personal and detailed in the way that we create waiting lists with as much as information as possible," English department chair Natasha Duquette said.
LACK OF CHAIRS IN CLASSROOMS
Biblical studies professor Jeff Volkmer said sometimes students are turned away for no other reason than the lack of chairs.
"I typically try my hardest not to turn students away from class. The only way that I will is because the room physically isn't big enough," Volkmer said.
SMALLER CLASS SIZES PREFERRED
However, there are many classes — such as lecture seminars and physical education courses — that have ample room and are still capping their class sizes. Junior elementary education major Breanna LaBounty was unable to enroll in a class for this semester because she had a later registration time. The class had already been capped by the time she was able to sign up for it.
"I was really excited for the Christian relationships integration seminar. I feel like a ton of people talked it up, and I really wanted to get into it, because of my registration day I couldn't get into it because it was already closed," she said. Although she does not receive credit for attending the class, LaBounty has made it a practice to sit in on the lectures.
"Every week there is a ton of space," she said.
While some classes seem to be bursting at the seams, other classes, including integration seminars and PEs, seem to turn students away for the benefit of quality over quantity.
Volkmer, who has taught classes as large as 240 students and as small as 11, said that, while a pain to get into, smaller class sizes are preferable to massive lecture halls.
"Smaller class sizes are always better in many respects just because the interaction the ability to talk about things in class the speed how quick grading takes," Volkmer said. "Students probably aren't aware how a bigger class size in certain courses will negatively impact their learning experience in some circumstances."