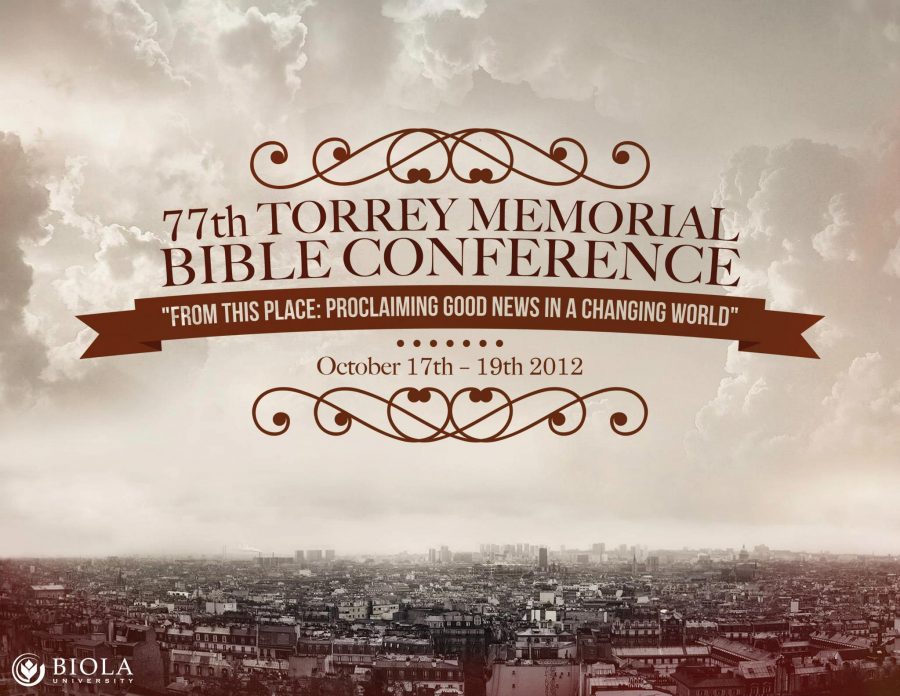 Courtesy | Jeremy Pedron
The 77th annual Torrey Memorial Bible Conference will kick off next Wednesday with the theme "From This Place: Proclaiming Good News in a Changing World."
Torrey Conference 2012 will no longer be offering conference credit for reflections. Instead, afternoon workshops will be worth conference credit.
Workshop credits offered for first time
"This year, the topic lends itself to doing workshops instead of reflections to help equip our students in different ways to go out and share the good news in a changing world," said director of Chapel Programs Lisa Ishihara.
These one-credit workshops have titles such as "Human Tapestry" and "Harry and Sally are Wrong" and will take place on Wednesday and Thursday afternoon from 4 p.m. until 5:15 p.m.
"From this place"
Allen Yeh, Biola associate professor of intercultural studies and missiology, will kick off the conference Wednesday at 9:30 a.m.
"It was a bit of a surprise that I was asked to speak at Torrey Conference and not at the SMU [Student Missionary Union] Missions Conference in the spring because that seems like a natural fit, but actually I love it," Yeh said. "It's a chance for cross-pollination. This is a chance for integration, which is a watchword for Biola and other Christian colleges."
Even though the theme of Torrey Conference may seem similar to that of Missions Conference, there is a distinction.
"I think Missions Conference a lot of times has the idea of pushing the nations and going, where I think Torrey's idea … is [being] missionaries through our words — like really proclaiming the gospel both in action but definitely word," said Torrey student director AJ Shaffer.
Yeh will talk about what it means to proclaim the gospel.
"I think that having a holistic view of proclamation is what I want students to get out of this," Yeh said. "No matter what they do, if they are going to be a businessman, a musician, a doctor, whatever they do with their life, they can proclaim Jesus wherever they are in whatever they do."
AS serve day counts as two makeup credits
In addition to workshops and sessions, there would be opportunities to serve during Associated Students Serve Day on Saturday, Shaffer added. This opportunity for service will be worth two chapel makeup credits.
"We wanted to hook up with AS because … we wanted to give students the opportunity to actually act on [what they learned] and go proclaim the gospel and serve in some manner," Shaffer said.
AS Serve Day features various projects like working at the Dream Center in downtown Los Angeles to help organize a Christmas event or going to the Fred Jordan Mission.
Junior English major Cree McCook, who is part of California School Project, is most excited to attend the sessions and for students to learn more about sharing their faith.
"I expect to be challenged in my faith and I expect to learn something. That's the biggest thing," McCook said. "I expect there to be good worship and good time of prayer … [and] community building, so really fostering both the communal aspect and the intellectual aspect of the Christian life."
Speakers
Mark Batterson, pastor of the National Community Church in Washington, D.C., will follow Yeh's opening message with a sermon based on Matthew 10 at 1:30 p.m., the passage in which Jesus commissions his 12 disciples. Batterson will follow up his afternoon message with an evening one focusing on Acts 10, the story of Cornelius.
Michelle Sanchez, pastor of Christian formation at Highrock Covenant Church in Massachusetts, will speak at both the 9:30 a.m. and the 1:30 p.m. conference sessions on Thursday. Her main topic will be abiding in Christ, and how everything people do should be rooted in that, according to the Torrey Conference booklet.
Jonalyn Fincher, the leader of Soulation, a nonprofit group devoted to soul care, will be speaking on evangelism without gimmicks at the Thursday evening session.
Mike Erre, pastor of First Evangelical Free Church of Fullerton, will wrap up Torrey Conference on Friday at 9:30 a.m. Erre holds a master's degree from Talbot School of Theology in philosophy of religion and ethics.
Contributing reporting by Kristina Nishi.