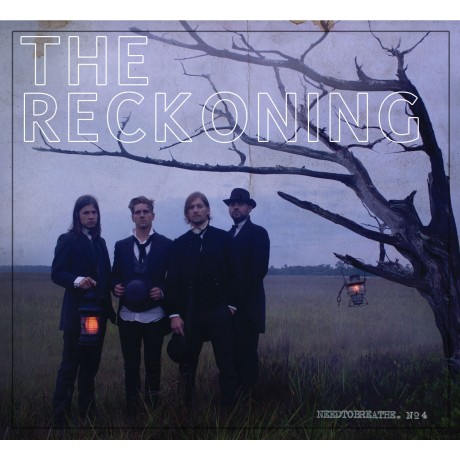 It doesn't have an anthem like "The Outsiders" that captures the essence of their southern rock roots. Nor does it have a spiritual ballad like "Something Beautiful" or "Garden" like their previous album. But Needtobreathe's newest studio album "The Reckoning" blends the modern electric rock style of their first two albums "Daylight" and "The Heat" with the southern, acoustic rock style of their third and most successful album "The Outsiders" to create a listening experience that was worth the wait.
Each song is a powerful experience
The band draws you into their lives with their lyrics and you can actually have fun while you listen. The album kicks off nice and strong with "oohs and ahhs." A gritty rocker similar to "Prisoner" off their third album first hits you with nothing but the eerie pickings of a single guitar, but then transitions into clear whisperings from lead vocalist Bear Rinehart. When the bridge plays, you'll be hooked. The screaming guitar from Bo Rinehart and pounding drums from Joe Stillwell lull you into a soft head-banging, foot-tapping trance. Throw in the passionate vocals of Bear Rinehart and you have a thrilling first track.
"White Fences" is a solid number two song. Clean and peppy, it is a perfect lead into the classic Needtobreathe style found in "Drive All Night." Guitar plucking sets the tone with a quick melody, then the rest of the band comes in with a song that makes you want to roll down your car windows and feel the air on your face. It isn't a storyteller, but it evokes the "nice guys finish last" mentality with the line, "Somewhere in this wretched tale there must be a line / when the victim gets his way / Just one time, oh I'll get mine."
Next up is the first heart-breaker on the album. "A Place Only You Can Go" uses gut-wrenching harmonies and emotional lyrics about not being able to measure up to a loved one. This could be speaking about God, or maybe about another person, whichever you choose it to mean, you'll be in tears by the time the bagpipes finish playing. Up next, stepping right in where "Drive All Night" leaves off, "Slumber" jump-starts the album. It motivates the listener asking him or her to "Wake on up from your slumber," and "open up your eyes." The song closes out with a harmony-driven group a cappella that forces you to just belt it out along with the band.
The title track "The Reckoning" is moving. Focusing on forgetting the past and only dealing with what you can control. Like "Lay 'Em Down" from their previous album, the next song, "Able," begs the listener to forget about carrying their own burdens. The only way to describe the next song, "Maybe They're On To Us," is with the word "cool." A distorted guitar weaves its way in and out of the produced echo of Bear Rinehart's voice. "Wanted Man" comes in next to refresh the listener. A crisp song sharing a message of the contentment a man has when he's with the one he loves, no matter what else he may be facing.
Some tracks seem a bit unnecessary
The album could end there and be a hit, but it doesn't. A strong melodic tempo from a piano opens up "Keep Your Eyes Open." Not the most memorable song on the album, still it doesn't stray from the contemporary rock style with which the band often toys. An emotional Bear Rinehart shared at a recent concert about the band's past and how that all came together in "Tyrant Kings." Guitars and a piano combine for a synchronized tune about heartbreak and perseverance. "Devil's Been Talking" doesn't do much for me, but it is quick enough to keep you interested. "Angel At My Door" gives in to so many love song cliches on its way to being stuck in your head. The 14th and final song on the album is "Learn to Love" and it is worth it to wait for this one. Preaching love no matter which direction the course of life takes you, "Learn to Love" uses the songwriter's personal experience to demonstrate the value of patience when dealing with others.
The boys from Seneca, S.C. got it right with "The Reckoning." Sharp lyrics and powerful instruments provide the proper clarity that goes into songwriting about life. However, not every song warrants attention and the album could possibly do without a few of them. Still, I'm giving them four out of five stars.