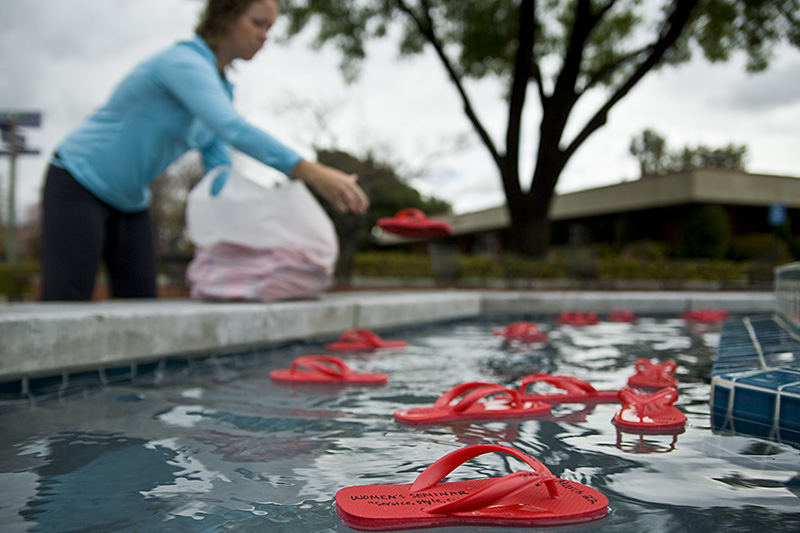 Mike Villa
A prominent fashion blogger and style ambassador for Quicksilver, Beth Jones enjoys traveling the world and spreading fashion, topics she spoke on alongside five successful female Biola graduates in a chapel celebrating Women's History Month Tuesday.
Ruby Slippers event kicks off with special chapel
The chapel named "Service. Style. Substance." combined testimonies with practical advice from successful Biola graduates. It was the first of four events that are part of Biola's fourth annual Ruby Slippers event. Kicking off with the evening chapel, the next event is a Judith Hill concert on Thursday, March 24, at 7:30 p.m. in Crowell Hall. Other events consist of the Ruby awards ceremony, which awards are presented to female faculty, staff, students and alumnae who have been nominated by their peers, at 9:30 a.m. Friday in Chase Gymnasium and the Ruby award luncheon at noon in the Giumarra Courtyard.
This year's theme, "Be Inspired," came to light Tuesday night as speakers Jones, Laurel Dailey, LaNej Garrison and Shelley Leith discussed faith, work and life in general.
Panel discusses the combination of faith and career
Bringing her faith and career into fusion is a daily struggle, Jones said. Jones, who struggled with bulimia while at Biola, said she is not afraid to dream big. In her success as a style maven, Jones advises students to have great aspirations.
"It's okay to dream, and it's okay to go for your dreams," Jones said. "Keep God in your dreams because he can dream bigger than you can."
The diverse panel included women with careers in life coaching, photography, fashion blogging, spiritual direction and an inspirational youth speaker. The women discussed issues on maintaining community and spirituality, as well as dreaming and reaching goals.
One common thread in the stories of these five women was trusting in God when they left Biola. Leith, consultant, life coach, wife, and mother explained that the end of life does not start at the end of college.
"The Lord is going to take you on a journey," Leith said.
Trusting God after Biola
Another topic of importance of the panel was not only trusting God when a student leaves Biola, but trusting him while they are here and in the moment.
Jones challenged the audience to ask themselves how they can do this.
"How can I fully invest and be intentional in this moment?" Jones asked.
Being intentional in relationships
Dailey described how as a naturally social person she thoroughly enjoyed Biola's community.
"I loved having the community that Biola offered," Dailey said.
Enjoying the community is one thing, but to Jones community was needed. Using her testimony about her struggle with bulimia, she explained that community is imperative.
"You can't just have a relationship with God that's just you and God on an island; you have to have that community," Jones said.
Garrison said that God is speaking to the students while they are on their journey. She warned against not being intentional and missing out on God.
"God is speaking to you while you're here," Garrison said. "Don't miss God."
Biolans enjoyed diverse speakers
Some Biola students shared tasty snacks and hot chocolate after the panel, discussing how they enjoyed the event.
"I thought it was good," junior Jennifer Hatton said. "It was awesome that they were a diverse group of ladies. I enjoyed listening to Shelley Leith's story. It was very inspirational to me."
Freshman Robin Newby agreed.
"I thought it was interesting that some of these women went to Talbot, and that has inspired me to consider going to Talbot," Newby said.